My website is reader-supported. Buying through links on my site may result in me earning a CUSTOMER REFERRAL FEE at no extra cost to you.
4 Carat Diamond Ring – The #1 Buying Guide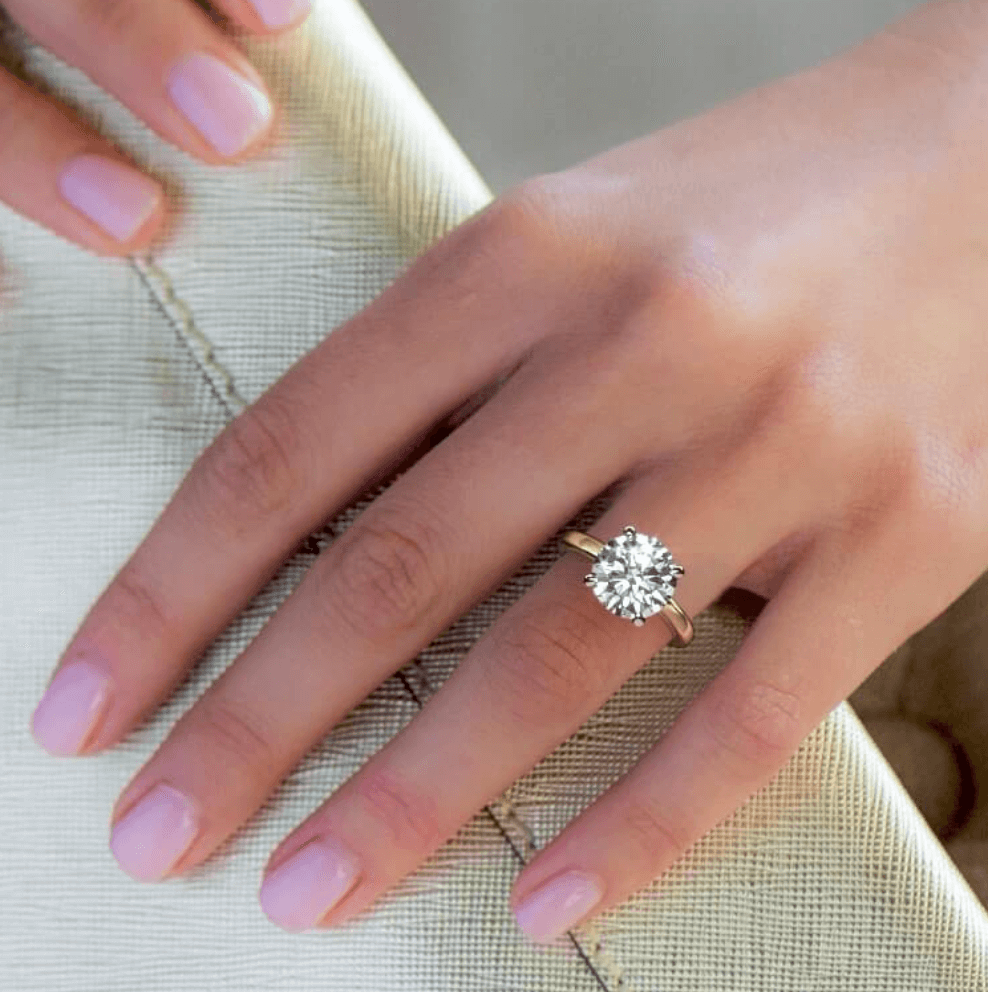 Example of a 4-carat diamond ring
Most people try to get the biggest diamond size and best ring they can afford when it comes to engagement rings. But is a 4-carat diamond ring necessary? And what factors should you consider before buying a 4-carat weight diamond?
This blog post will discuss everything you need to know before buying an engagement ring, including what factors to consider and how to budget for one. So whether you're browsing jewelry stores or looking online, read on for some helpful advice on purchasing the perfect ring.
4-Carat Diamond Ring Summary
A 4-carat diamond is far above the average engagement ring size, which is currently at about 1.2 carats
Since such a large diamond is scarce, it tends to be expensive, ranging in price anywhere from $50K to $500K (average is about $120K)
There are certain tricks you can apply to make a large stone appear even larger (e.g., choosing a narrow ring band)
Due to the relatively large surface faced of a 4-carat diamond you need to choose a better clarity and color grade than you would for a smaller diamond
Your best chance at finding a high-quality large diamond is online rather than at a local jeweler store since online stores tend to have a wider selection, and you can expect each diamond carefully before purchasing one

The

best places to shop

for 4-carat diamonds are

James Allen

and

Blue Nile
How common is a 4-carat diamond ring?
A 4-carat diamond is extremely rare. It's estimated that less than 0.1% of all loose, naturally occurring diamonds have a carat weight of 4 or above.
If you look at James Allen's diamond inventory, for example, you'll see that they have close to 380k of diamonds to choose from. However, only 191 round cut diamonds are between 4 and 5 carats. Other diamond cuts are even rarer.
Moreover, a 4-carat diamond ring is far above the average diamond size for an engagement ring. The average size of the center diamond in engagement rings in the U.S. is 0.91 carats. Or, according to James Allen, 1.2 carats.
You can take a look at the diamond size simulator below to see how big a 4-carat diamond would appear on a hand: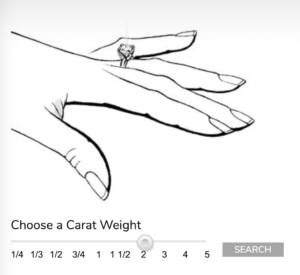 Price of a 4 Carat Engagement Ring
Since the diamond price is determined by its carat weight and the diamond's clarity, color, cut, and shape, among other factors, it's challenging to give a definite answer.
However, an average round 4-carat diamond with ideal cut, F color, and VS1 clarity would cost you about $120k. That is if you'd purchase the diamond online at James Allen for Blue Nile, for example. If you buy a diamond of similar quality at a brick-and-mortar store, you can expect to pay 20-50% more.
If you're willing to accept a hint of color, perhaps going down to a K color, you could likely find one priced at $50,000 or more.
To give you a few real-life examples of how much a 4-carat diamond would cost, take a look at the following diamonds:
The diamond below is priced at the more expensive end of the range due to its (internally flawless) IF clarity and D color.
On the other hand, this diamond has a VS2 clarity grade while being nearly colorless with a color grade of H. In addition to that, it's eye-clean. The price of this diamond is a small fraction of what the D/IF diamond costs.

Shopping Guidelines for a 4-Carat Diamond
Follow these guidelines when shopping for a 4-carat diamond:
Color Grade: No lower than G as the larger surface area of such a large diamond will show off more body-color
Clarity Rating: No lower than VS2, as the large surface facet won't hide small inclusions easily
Cut Grade: At a minimum, a GIA 3Ex or an AGS 000
Grading Report: Only accept a GIA or an AGS report
In the following sections, I'll dive deeper into each recommendation.
Optimal color grades for a big diamond ring
Choosing a G color diamond or better will ensure that the center stone of your ring will look icy white on a white gold or platinum setting.
Smaller diamonds can often get away with lower color grades because the sparkle of a diamond will tarnish some of the yellow color. However, the diamond is more prone to exhibiting its body color at such a significant carat weight.
That said, you can choose a slightly lower color grade if you choose a yellow gold setting. A yellow gold ring setting will swallow some of the yellowness of the diamond. It will also swallow a brown tint. If you choose a white gold setting or a platinum setting with platinum prongs, you'd better choose a higher color grade.
James Allen
offers 360° videos and also a Super Zoom function that lets you take a close look at each diamond.
Best diamond cut for a 4 carat diamond
It would help if you never compromised on the diamond's cut quality, as the cut largely determines the diamond's visual appearance in terms of sparkle and brilliance.
An exquisitely cut diamond can hide inclusions and a hint of color with its magnificent sparkle.
That's why I always recommend getting an ideal cut diamond, no matter the size. If you can't afford an ideal cut, try to compromise on clarity or color instead. If you spend a little time browsing through various diamonds, you can find an eye-clean diamond in a lower clarity range.
Optimal diamond clarity grade for a 4 carat diamond
A 4-carat diamond is a very large, valuable stone. The higher carat weight often means that the diamond will have a larger surface area than smaller diamonds, making it sometimes challenging to find an eye-clean diamond with a lower clarity grade.
You might already know that diamonds with very small inclusions and blemishes (minor flaws) make for better clarity grades than those with larger imperfections or visible features that require magnification to see them clearly.
However, it's not important to get a high clarity grade, unlike when it comes to the cut. What is important is that you find an eye-clean diamond, i.e., a diamond that has no visible inclusions to the naked eye.
I recommended you look for clarity grade VS2 or higher for such a large stone. While challenging, you can find an eye-clean diamond in this clarity range with a bit of luck.
Just take a look at the 4-carat diamond below with a VS2 clarity grade: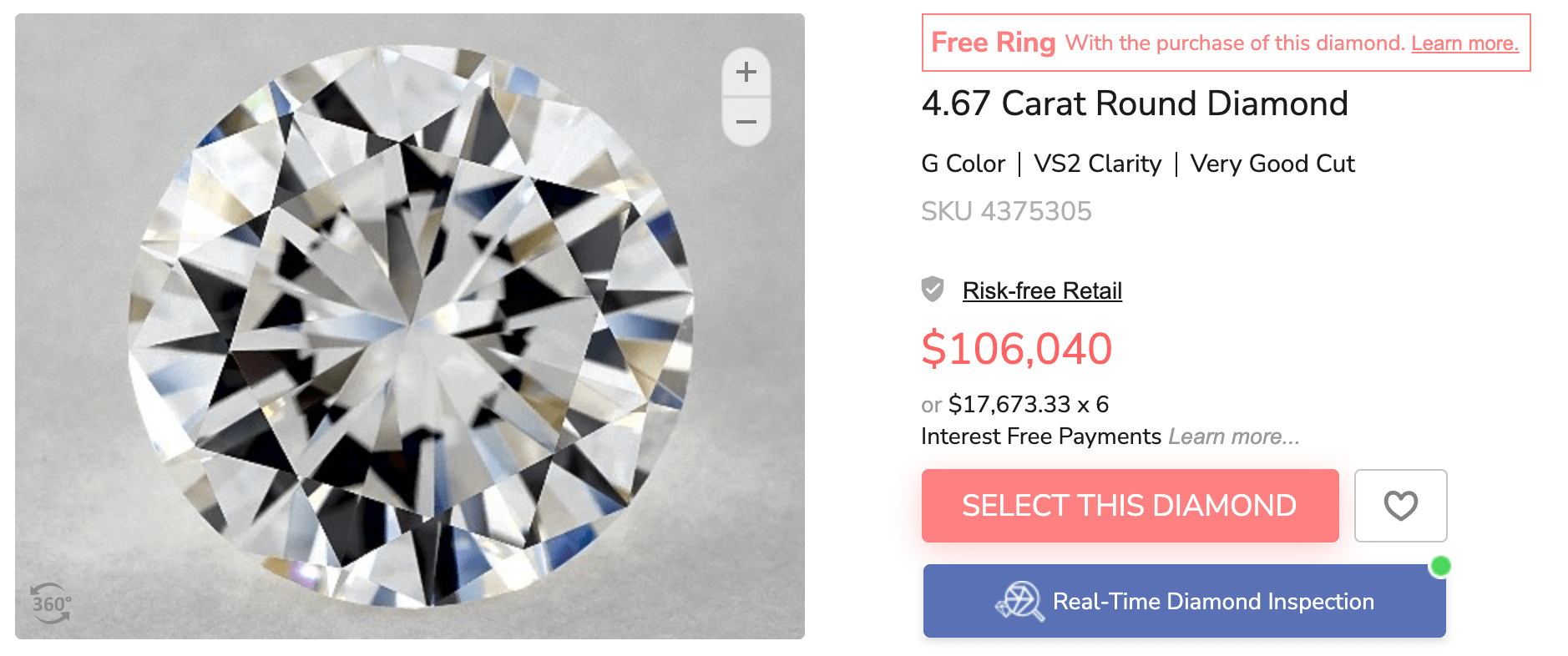 The exception to this rule is if you want a diamond with a unique feature, such as a large carbon spot or inclusion. In these cases, the clarity grade of the diamond may be less important to you than other factors. That way, you can find diamonds graded lower on the clarity without harming the diamond quality overall.
How to make a four carat diamond look even bigger
You might have decided that you can't afford a four-carat diamond. Or you might want a 4-carat diamond to look as large as a 5-carat diamond. In either case, you'll be happy to hear that several tricks can make a diamond appear larger than it is.
Tip #1: Choose a small ring band – The smaller the ring band, the larger the stone will appear. This is due to an optical illusion.
Tip #2: Choose a three-stone ring setting – If you choose a setting with a large center stone and two side stones, the side stones will help emphasize the center stone's size.
Tip #3: Choose the right diamond shape – Certain diamond shapes appear larger than others. For example, an oval cut diamond appears larger than a cushion cut diamond.
By following these simple tips, you can ensure that your 4-carat diamond dazzles everyone who sees it!
Best diamond shapes for a large diamond?
There are many 4-carat diamond shapes available on the market, including fancy shapes. Here are some of the most popular:
Round shape
Princess shape
Pear shape
Marquise shape
Oval shape
Heart-shaped
Emerald shape
Each shape has its own unique set of benefits and drawbacks. So, it's important to choose the diamond shape that will best fit your needs.
For example, round diamonds are trendy because they sparkle brightly and are versatile enough to be worn in any setting. However, they can be more expensive than other shapes.
On the other hand, pear-shaped diamonds are often considered more feminine and romantic than other shapes. But they can be difficult to wear due to their tapered shape.
Some diamond shapes, such as an oval-shaped diamond, have the advantage of appearing larger than other shapes.
Certain fancy cut diamonds, such as an Emerald cut diamond, tend to show more flaws.
How to find high quality 4-carat diamonds
The best way to find top-quality 4-carat diamonds is to go online and browse the websites of reputable vendors.
Without a doubt, those who have not adapted to the digital age may think I'm nuts to advise people to buy a large diamond online. Most people would intuitively rather go to a jewelry store.
The truth is, more shoppers get ripped off in brick-and-mortar stores than people who shop online. When you shop online for a diamond, you have much larger inventories that you can look through. You can take your time finding the best possible diamond within your budget.
More importantly, shopping online allows you to have more transparency when selecting a diamond than in a retail store.
Not only can you inspect each diamond very closely, but you also get each one's performance data. Each diamond has its technical details on full display so that you can see it all.
Additionally, local jewelers will have a limited selection of such large diamonds. Plus, brick-and-mortar stores have a lot of overhead expenses that online stores do not have, which are passed on to the buyer.
If you go to reputable online vendors such as James Allen or Blue Nile you will have a much bigger collection of 4-carat diamonds. That is thanks to their 20x magnification and high definition 360-degree videos. You will also be able to look at each diamond in detail. You'll also be able to create your diamond jewelry and pick a band of your preference, such as a 14k white gold band.
Conclusion
A 4-carat diamond is a precious stone. If you're in the market for a quality diamond in the 4 carats weight category, you can plan on spending somewhere in the range of $50,000 to $500,000. Keep in mind that you should consider the preferences of the person who will be wearing the ring in the end.
It may be challenging to find an engagement ring with a 4-carat diamond. Therefore, I recommend that you begin your search well ahead of time so that you do not make a hasty decision, especially if you are looking for certain quality grades within your budget.
If you are interested in a 4-carat diamond, I'd recommend chatting with the diamond experts at James Allen. They offer the best diamond prices on the market and superior tools that allow you to inspect the diamond before purchasing.