Whiteflash Review – Is It Safe To Buy a Diamond From Them?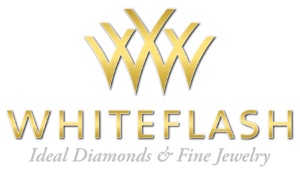 Whiteflash review: If you are looking to buy a diamond, then searching online can seem extremely daunting. You want the best quality that money can buy but the assurance you are getting great value. I've already written about James Allen and Blue Nile as two of the main online vendors for diamonds. Another, lesser known shop is Whiteflash. Here's a quick summary of their benefits:
High-quality diamonds.
They stock heart and arrow diamonds which they call A CUT ABOVE® diamonds (premium cut grade).
360 HD Video and Light performance imaging (so you can easily check for eye-clean diamonds with lower clarity grades).
ISO 9000 Quality Assurance.
One Year Buy Back.
Lifetime 100% Trade Up Guarantee.
Designer Engagement rings from the Top Brands.
Money Back Guarantee.
Free International Shipping.
Secure Online Purchasing.
Great customer service (Expert Consultation with GIA trained staff).
Diamonds come with Grading Report.
Aset image and Idealscope images are provided.
Whiteflash Review: The Company
Whiteflash is a member of the American Gem Society and dedicated to consumer education and protection. They started in 2000 and have built an international reputation through customer referrals.
As with any other reputable vendor, such as James Allen, they provide basic information on the diamonds 4 C's. This covers Color, Clarity, Carat and Cut. Every in-stock diamond has a full set of light performance images as well as a full laboratory report posted to the website. Furthermore, Whiteflash carries one of the largest in-stock inventories of certified ideal cut diamonds. This includes both round hearts and arrows and AGS ideal princess cuts.
Their in-house team consists of GIA trained jewelry and diamond experts including Graduate Gemologists. In addition, they employ diamond Graduates and AGS Certified Gemologists. Because AGS Laboratories are the foremost authority when it comes to Cut Quality analysis, most Whiteflash diamonds have AGSL certificates.
The History of Whiteflash
Whiteflash first began creating engagement rings and other jewelry back in 2000. Since then, they have built their reputation on word of mouth. They even won an award for their customer dedication by the Better Business Bureau, the 2018 BBB Pinnacle Award. They also have a brick-and-mortar store based in Houston.
Heart & Arrow Diamonds: Their House Brand CUT ABOVE®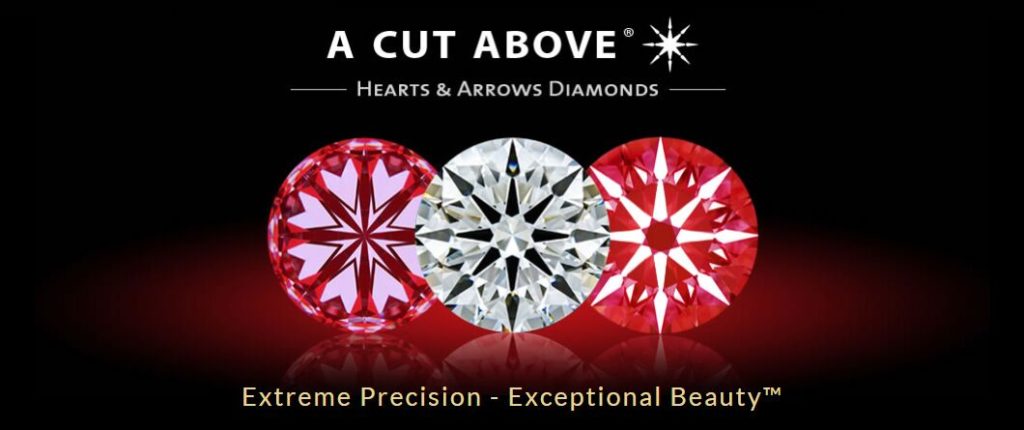 The A CUT ABOVE® super ideal diamond is Whiteflash's in-house name for heart and arrow diamonds. To achieve the stature of a Hearts and Arrows diamond a round stone must display a pristine three-dimensional alignment of facets and a perfect hearts and arrows pattern. The stone must then earn the AGS Ideal certification and to achieve this it must fall within the narrow parameters of the AGS stringent criteria. The final step is passing additional image testing to prove their light performance when captured on camera. You can see these images on their website. They clearly demonstrate the beauty of these stones.
They also provide you with the full gemological data for every one of these diamonds. Heart and arrow diamonds are clearly more expensive. Whether you get one or not is a matter of taste. Personally, I wouldn't go for one as it is difficult to see the heart and arrows with the bare eye.
One thing I really like about Whiteflash is that they offer a 100% lifetime trade-up benefit. That means you can always trade for another diamond and get all the money you paid for the original credited toward the new diamond. This is great if you ever want to increase the size of the feature diamond years down the road.
Whiteflash Review: Designer Jewelry & Custom Design
If you like designer names then Whiteflash might be the right place for you. They offer designer jewelry from names such as Verragio, Tacori, Ritani, Simon G, Danhov, Vatche, and Benchmark. You should consider that you have to pay a premium price for these designer names. If you are willing to pay the extra buck you can find some beautiful jewelry.
Whiteflash also offers custom design services to meet your individual needs. I haven't personally tried this service yet. But they take your ideas and create a unique piece of jewelry. If they don't have the exact diamond you are looking for Whiteflash will source it from one of their partners to ensure you get exactly what you want. Other online vendors such as James Allen and Blue Nile offer similar services. Therefore, before you commit to one store make sure that you check out the competition, as well.
Reviewing The Quality Of the Diamonds
Whiteflash use high quality of diamond in the creation of their own, custom made jewelry and, as mentioned above, also offer pieces from the world's top designers. The quality of the diamonds offered by Whiteflash is matched by high-quality ring settings. Once the diamond is precision cut the actual design of the setting is created to complement the stone and ensure that it is the star of the show.
The 4 C's are, of course, the major players in the selection of a piece of diamond jewelry and you will find the best examples of all 4 here. Color, clarity, carat, and cut combine to produce the kind of diamonds that have to be seen to be appreciated. If one of the C's is lacking in any way the stone is trashed, simple as that. Whiteflash only purveys the finest diamonds and this is the foundation on which they have built their enviable reputation.
The Website – Is it User-Friendly?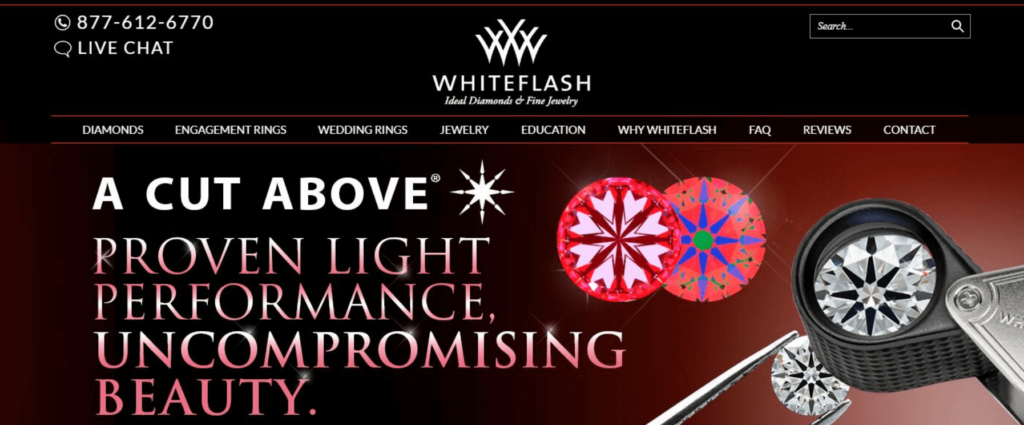 The Whiteflash website is relatively dark compared to other websites such as James Allen. Personally, I am not a big fan of the dark tone with red touches. However, everything you want to see is clearly displayed, so it's quite easy to navigate through the site. Having only 5 main categories makes life so much easier in terms of narrowing down that field. The navigation menu on the left-hand side is so simple it defies logic why it isn't employed on more sites. You tick the boxes you want and the rings appear that match your criteria.
There is also a handy search box that stores your queries for further visits, a live chat to discuss your requirements and the option to pick up the phone and call them should you wish to discuss your requirements further. I tried out their chat function several times and they always replied quickly to me. Making such a valuable purchase online can be kinda scary so knowing you can also ring up and pay over the phone is an extra reassurance.
The Imagery – Catching up With James Allen
James Allen is a clear leader when it comes to diamond imagery and I often mention their great tools in my blog post. Whiteflash now also offers 360-degree videos of their diamond inventory, making it easy for you to look for eye clean diamonds with lower cut grades. Whiteflash has its own in-house photography department, which aims to show the diamonds from several different angles to give you full transparency. These images and videos are found under the main image of each piece.
When talking to Whiteflash they told me that they are also in the process of creating and adding 3D videos for each of their products. These will last for 30 seconds and give you an even better view of your chosen piece before you purchase it. One of the videos already installed can be seen by following this link. Click on either the Ring Video or Hand Video option above the main image.
The Shopping Experience
The online check out process is seamless and easy. There are multiple payment options to choose from including all major credit cards, Paypal for US and Canada customers and even wire transfer which brings with it a worthwhile discount. Free international shipping is all part of the service and just another reason why our shopping experience with Whiteflash was enjoyable from start to finish.
The Information on Offer
In addition to all the information available online, there is also a live chat service. If you want to speak to somebody about anything to do with diamonds or have a specific question, a friendly member of their highly knowledgeable staff is only a phone call away. You can also email them if you have a long or specific query and wish to add any attachments to give them a better idea of what you are looking for.
The Choice – Inventory
There is less choice compared to other sites who stack 'em high and sell 'em cheap due to the fact Whiteflash only sells high-quality stones. Some websites are so overloaded with products that can make the shopper feel overwhelmed, and thus end up making the wrong decision as they simply become tired of looking. With the options available within the 5 main categories of Designer Rings, Diamond Jewelry, Engagement Rings, Loose Diamonds and Wedding Rings nobody should leave empty-handed. Fancy rose gold? Platinum? White or yellow gold? They are all here along with every setting you could think of from classic solitaires to elaborate halo designs.
The Loose Diamond section is a journey into the world of the classiest gemstone known to mankind. Those who don't know round from radiant will discover the story behind each cut and how the stone is created. If a subtle hint has been dropped that your partner is a fan of the princess diamond, for example, you can select the perfect stone and have it custom made into a setting of your own design to take that oh so special ring to a whole new level.
The Packaging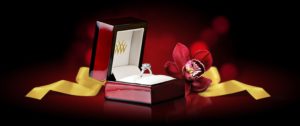 Sending an exquisite piece of jewelry in cheap packaging is akin to framing an old master in plywood. The two should go together like peanut butter and jelly, not oil and water. Whiteflash scores highly in this area for the thought and care which has gone into how they package their items. Elegant and tasteful, their boxes deliver a great first impression and heighten the anticipation of what lies within.
The lacquered cherry wood exterior is only matched by the superb satin interior which is the perfect backdrop for whichever ring is nestling there. Custom made for each piece to show it off, other companies should take a leaf out of Whiteflash's book in terms of top end packaging.
Whiteflash Review – The Bottomline
All facts considered, Whiteflash seems to be a solid choice. I like that they caught up with James Allen photography, which allows you to look for eye-clean diamonds. I also like their trade-up guarantee.