James Allen Review – A Comprehensive and Honest Opinion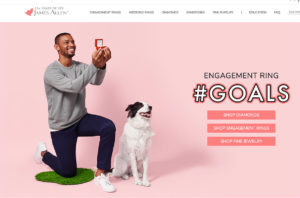 If you are planning on buying an engagement ring online you might have come across James Allen's website. And if you are also looking for an honest James Allen Review, then you are absolutely right here.
Founded in 2006, JamesAllen.com has made a solid imprint on the diamond industry with its online success. Both, James Allen and Blue Nile are leading diamond vendors when it comes to shopping engagement rings online. You may wonder why it would make sense to buy a diamond from James Allen, rather than from more established brands like Tiffany, Harry Winston or Cartier.
Well, if you continue reading this James Allen Review you'll get an honest review about their craftsmanship, diamond quality, shipping process, pricing and much more.
James Allen Review – Online Diamond Visionary & Pioneer
People have historically shopped for engagement rings at traditional brick and mortar stores. However, most jewelry stores have a very limited number or diamonds in inventory. Why select a diamond engagement ring from so few options? The more options you have the easier it will be to pick out a high-quality diamond without paying a premium price.
James Allen has single-handedly brought shopping for fine jewelry into the 21st Century. With their innovative Diamond Display Technology, you can see into the loose diamonds you're considering and thoroughly examine each one.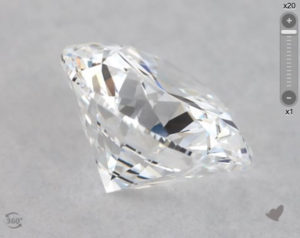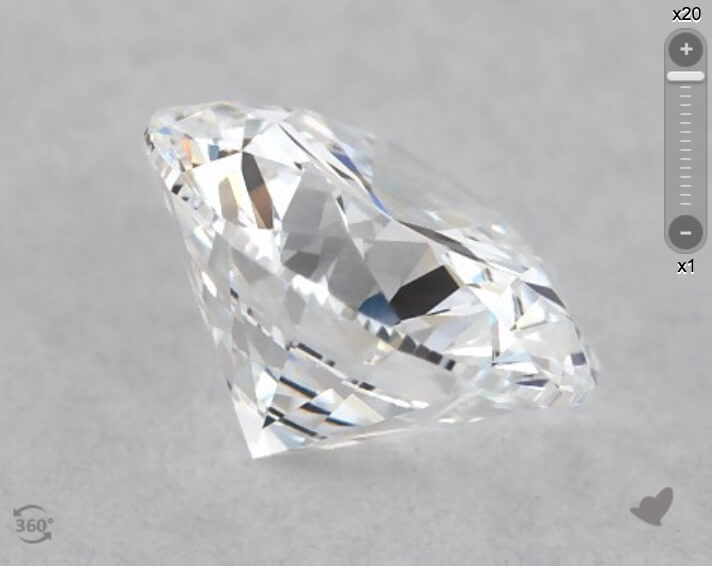 You no longer have to rely on a sales associate's opinion or a diamond's grading report. Instead, you can peer into as many diamonds as you please with full transparency. Click here to see a video of this diamond and you will see a 360° view that shows literally everything. When you compare James Allen to other jewelry stores, you will find that James Allen offers consumers a shopping experience unlike anywhere else in the diamond industry.
Here is a list of all the advantages consumers enjoy when shopping at James Allen:
1. Loose Diamonds Numbering More Than 200,000 in Inventory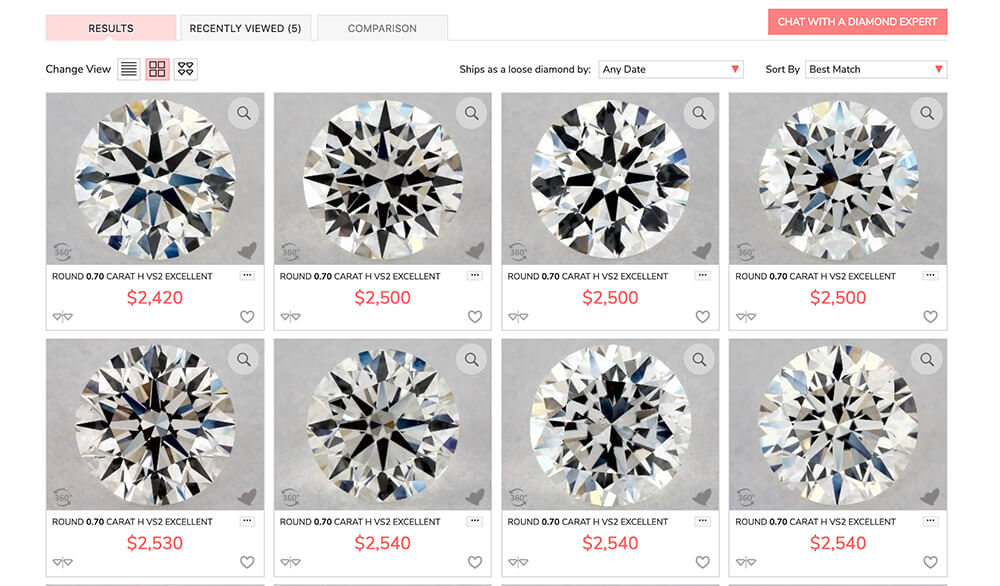 James Allen maintains a massive inventory of loose diamonds that currently stands at 200,000+. Each of these diamonds is listed on JamesAllen.com, along with their grading report issued by GIA, AGS or IGI.
You may wonder what the advantage is of having so many selections. Especially since you are only in the market for one engagement ring. Well, this giant diamond selection gives you a chance to choose the very best diamond within your price range. You can examine every detail of each diamond, and compare each one with the next until you find the perfect one.
Compare this experience to the few pathetic choices you get when you shop at a typical brick and mortar jewelry store. Shopping at JamesAllen.com means you don't have to compromise on quality.
2. View Live High Definition Videos of Diamonds
Having an opportunity to peer inside each diamond you're considering is a HUGE advantage when choosing a stone. Why? Because no two diamonds are alike, even if on paper they seem to have the same color, cut, clarity and grade.
To make my point, I'm going to let you compare two diamonds. Both are GIA triple excellent stones with SI1 clarity and F color. On paper, these diamonds are similar, but in reality, they are totally different.
The diamond on the right has a cloud inclusion right under its table. Since it is visible inclusion the stone is not eye clean. The diamond on the left, however, is eye clean, with only scattered inclusions. Any layperson can spot these types of issues when viewing and comparing their 360° videos.
These videos even show you which diamond is cut better for reflecting the light to create the most sparkle! If you consider yourself a discerning shopper, it's important to look deeper than just the grading report. Especially when you're buying an engagement ring.
The video allows you to visualize the actual appearance of a diamond. If you are clever enough to search for eye clean diamonds that have lower clarity grades you can save quite some money. Because, what's the point in paying for a feature if you can't even see it?
3. Top-Quality Jewelry at Competitive Prices
Unlike the brick and mortar stores in your typical shopping mall, James Allen does not have to pay huge rental, employee and inventory costs. The savings that come with reduced overhead are passed along to customers in the form of much lower diamond prices.
By going online to JamesAllen.com, you have a huge selection of top quality diamonds to choose from. And it will save you up to 30-40% on the price. In fact, if you compare James Allen's prices of true hearts diamonds with those of Tiffany's you will see that they are in many cases, charging double!
4. Many Ring Setting Designs & Customization Choices
At James Allen, you can choose from over 600 gorgeous ring settings in a broad range of styles. The best part of it is that you can visualize each setting in a 360° video. Just like viewing their loose diamonds.
It's also brilliant just how many options they offer and how easy it is to customize your design. You might want a halo or solitaire ring setting and prefer it to be white gold or platinum. And guess what? You'll likely get exactly what you want!
If you're sentimental and want to have the ring you choose engraved, James Allen offers that for free. And in case you don't know what you want yet, check out James Allen's Inspiration Gallery. Here you can see what past customers have purchased.
5. Customer Service Available 24/7
Writing a James Allen Review I, of course, tested their customer service extensively. We've all experienced salespeople breathing down our neck when we just wanted to be left alone in the store to look. We've all had sales associates driving us nuts trying to convince us to buy something whether it was right for us or not!
Rather than taking the time to really listen to you, the customers, most sales associates are trying to earn a commission. Since the commission is their top priority they often won't finding you exactly what you need or want. With James Allen, that's never the case.
When you shop online at JamesAllen.com you are working with a team of sales associates that are not on a commission. This means you always get their objective opinions and advice instead of a sales pitch and pressure tactics.
You also have a customer service team that's available 24/7 if you have any questions or concerns. All you do is click on "Chat With Us" and you'll quickly get your questions answered. Plus, you can take advantage of an innovative support feature that allows James Allen staff to share their computer screens with you.
6. 30-Day Money Back Guarantee on Every Purchase + Free Shipping
James Allen offers customers a completely risk-free purchase with a no-questions-asked 30-day return policy. This gives you plenty of time to examine your purchase to ensure that it is exactly what you want.
Furthermore, James Allen provides free worldwide shipping. If you live in the United States, the company will even cover your return shipping costs! This demonstrates the confidence James Allen has that you will be happy with your purchase. If not, just return it within 30 days for a full refund.
7. Lifetime Warranty on All Purchases + Repairs
Unlike so many jewelry stores and other retailers who simply blow off customers once they've swiped their card, James Allen offers customers long-term support. A reputable business should want to build enduring long-lasting relationships with its customers, which is how James Allen has built its reputation.
The lifetime warranty is amazing on its own, but in addition, customers receive other services for free, which include cleaning, polishing, prong-tightening, and replanting. In addition to that, if the ring size doesn't fit, James Allen offers a 60-day free ring resizing service on all rings except for eternity and tension set rings. If you're having issues with any piece purchased from James Allen, just reach out, as they can handle the repairs.
Type of Shopping Experience You Have at JamesAllen.com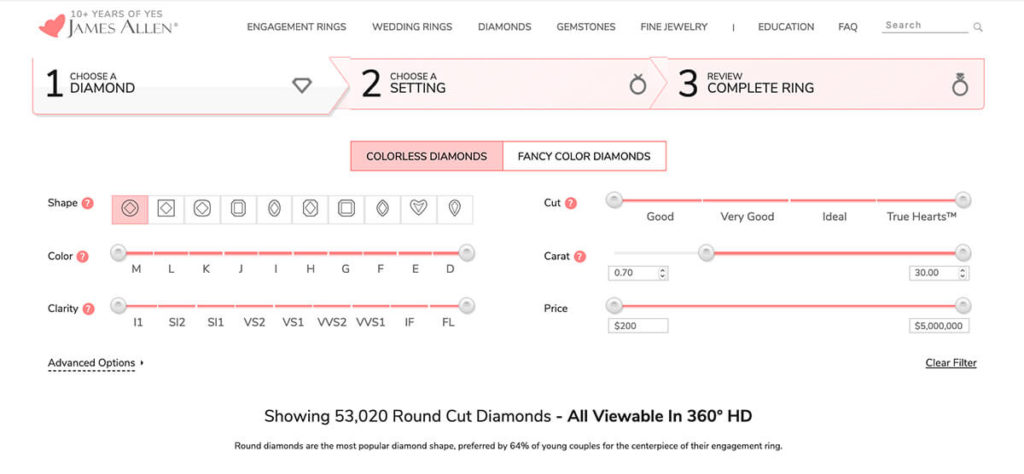 If you look very closely at listings on JamesAllen.com, you can quickly determine how easy it is to purchase a top-quality engagement ring there.
Let's say you want to choose a pave diamond ring design. First, you can choose a ring setting with the help of the easy to navigate top toolbar. To complete the design for the pave engagement ring you then have to pick a loose diamond. Again, James Allen provides you with a great selection tool that helps you to get exactly the diamond parameters that you are looking for.
Once the loose diamonds and ring setting had been chosen, all that was left was checkout, which was fairly straightforward. Once the credit card payment is made, they immediately start making the ring.
All you have to do now is wait for the FedEx package to arrive on your doorstep in a nondescript, unassuming white box. There are security reasons for this, as well as the fact that nobody wants to ruin a surprise. No one would ever suspect that this plain looking parcel would contain a diamond engagement ring!
James Allen Packaging & Presentation
When writing a James Allen Review I, of course, can't leave out the packaging. And I can say one thing about James Allen packaging and presentation: it is simply exquisite. It is by far the most beautiful I've seen in the diamond industry. And I've bought from a lot of high-end jewelers over the years, like Cartier and Tiffany, so I've seen their packaging.
What's great about James Allen's packaging box is that it's also a keepsake jewelry box with space to store other items. It has a pullout drawer that can be used to secure the grading report and jewelry appraisal papers.
This is what you can expect to see in the package with your diamond engagement ring from James Allen:
Your diamond engagement ring will come in a beautiful cherry wood presentation box. This red-colored ring box contains your ring.
AGS Proprietary Light Performance & Diamond Quality Report: In the diamond-grading world GIA and AGS are the only two trustworthy labs offering reliable and consistent diamond grading standards.
James Allen provides the Appraisal Document: If you intend to ensure your ring, this appraisal document will be required. If your purchase exceeds $1,500, you will receive the appraisal free-of-charge.
Warranty Cards & Rewards: Your warranty cards provide information on your jewelry's lifetime warranty as well as for instructions for taking care of your pieces. You will also receive a discount code that can be used for 10% off the purchase of a wedding band.
Quality Assurance Card: Various quality assurance professionals inspect each diamond along with the finished product against the specifications on the order card. This way they ensure the ring's quality and that it is exactly as you ordered.
Your Printed Invoice
Detailed Review of James Allen's Diamond Cut Quality Performance
If you are considering to buy a traditional round shaped diamond with an excellent cut then let me tell you that CUT is KING. It's as simple as that! If you want a brilliantly sparkling diamond engagement ring, the cut will determine whether your diamond is a top or a flop. As discussed above, James Allen lets shoppers see an ideal scope image for free.
Any decision to buy a diamond should be based on an educated assessment of all the data on the stone. So far, every ring I've seen from James Allen absolutely had a superior cut quality that perfectly matched the attached GIA certificate.
Bottom Line on Our James Allen Review
James Allen has experienced a tremendous growth since it was founded more than a decade ago. Their constant innovation and an unparalleled focus on providing round-the-clock customer service has allowed them to build an extraordinary following of very satisfied customers.
Wrapping up my James Allen Review, I can say that unlike standard jewelers that offer customers preset diamond rings, James Allen allows you the freedom to customize jewelry pieces according to your taste and needs. Furthermore, you are able to take your time in making your selections so your decisions are made rationally rather than under pressure from sales associates. You are also not viewing the diamonds under unrealistic lighting conditions set up to be persuading.
Think it over. What would you like your shopping experience to be, being hassled by sales associates in a store? Or, would you rather shop at your leisure online, taking your time so that you can choose exactly what you want based on factual information?
When it comes to something as important as a diamond engagement ring, I'd prefer to shop online from the privacy of my home. Moreover, their purchase is risk-free because they have a 30-day money back guarantee. In the world of diamonds, this can't be beaten! Thanks for reading my James Allen Review : )