Rose Cut Diamonds – All You Need to Know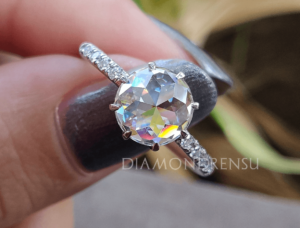 Rose-cut diamond rings are becoming more popular due to the increasing trend of antique diamond cuts in modern jewelry designs. These European cut, antique diamonds are quite unique because the facets are hand-cut to reflect the light in a distinctive way. These vintage-inspired diamonds give off an exceptional level of sparkle and warmth.
Don't confuse them with brilliant cut diamonds. These have 58 facets, whereas the antique rose cut version is shaped to look like a rose bud and has 3 to 24 facets, depending on the size. Generally speaking, the bottom is flat, which creates a larger surface area for increasing sparkle and brilliance.
The characteristic that makes this kind of diamond so distinctive from other more modern diamond cuts, is the flat base. A rose cut diamond has no pavilion at all, which is the sharply pointed base on the round brilliant diamonds you see today.
See the side-by-side comparison of both diamonds below:

Since the rose cut version has a flat bottom, it looks much larger than other modern cut diamonds with the same carat weight. This is a huge advantage. For example, if you had a round diamond measuring 6mm, in the typical round brilliant cut of today it would be a 0.9-carat diamond.
But while they look nearly identical in size from the top, in a rose cut it would only be a 0.42-carat diamond. With no base, this kind of gemstone typically weighs less, so you pay less for the lower carat weight.
Why did They Become Popular Again?
While immensely popular during the Georgian and Victorian eras, most people forgot about rose-cut diamonds for a long time. That's until Justin Theroux proposed to Jennifer Aniston in 2012, using an 8-carat antique rose cut engagement ring. While most likely not the only reason for the comeback, Jennifer Aniston's engagement ring definitely helped to bring back the diamond's beauty to the public eye.
Despite this spike in popularity, a brilliant cut diamond is still the the number one diamond engagement ring choice.
What You Need To Know About Rose-Cut Diamonds and Clarity
As with any type of diamond cut with wide-open facets, like an Asscher, old cushion or emerald cut, clarity is of primary importance in rose-cut diamonds. You can easily see any inclusions in rose- cuts because of the high dome and how transparent the facets are.
Since the underside of a rose-cut diamond is flat, with no facets whatsoever, the stone looks completely transparent and you can clearly see right into the stone.
What makes the rose diamond so stunning is its clear, clean, utterly simple appearance. Because of this you really can't compromise on clarity. The higher the clarity grade, the better since you want the diamond to be eye-clean. You need to examine the stone carefully for any noticeable flaws.
That being said, many of the antique style rose cut diamonds you see have inclusions. And they are graded accordingly, as either Included or Slightly Included.
Where to Buy Rose Cut Diamonds
You can often find old, authentic gemstones in antique jewelry stores or at estate sales. You can also find some stunning pieces online at sites like Amazon or Etsy. Although it may take time to find an antique rose gemstone, you can easily find replicas shaped into a rose cut.
I suggest that you start looking at Amazon and Etsy. They usually have a lot of rose-cut diamonds and other gemstones. Many of them are for sale. Both of these platforms have plenty of vintage engagement rings as well as modern jewelry designs with rose-cut gemstones. And they come from a variety of independent jewelry stores.
The Downsides of a Rose Cut Diamond
Unfortunately, there are some drawbacks to this diamond shape. And you should take these drawbacks into consideration when buying this diamond shape as an engagement ring. For one, rose cut diamonds are not as sparkly as round, brilliant-cut diamonds. Second, due to the lack of sparkly, they might come across as less dramatic or less of an eye-catcher compared to their brilliant counterparts. If you or your fiancee prefer little attention this might be the diamond for you!
Last but not least, diamond cutters usually cut rose gemstones from heavily included or low-quality rough diamonds. This makes it hard to find a high-quality, clear rose cut diamond. But certainly not impossible! While it's very easy to check for inclusions if you shop for round cut diamonds at vendors like James Allen or Blue Nile, as you can examine them with 360° HD videos. This, unfortunately, is not possible for this kind of diamonds.
Conclusion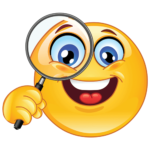 While certainly not everyone's favorite, rose diamonds are definitely a beauty to look at. They make a great alternative to the common round cut diamond. If you would like to learn more about round cut diamonds check out this blog post. Personally, I think that rose cut diamonds are very romantic and beautiful to look at. I'm sure many people would agree with me.
James Allen
offers 360° videos and also a Super Zoom function that lets you take a close look at each diamond.