My website is reader-supported. Buying through links on my site may result in me earning a CUSTOMER REFERRAL FEE at no extra cost to you.
E color diamond – Are they worth the premium price?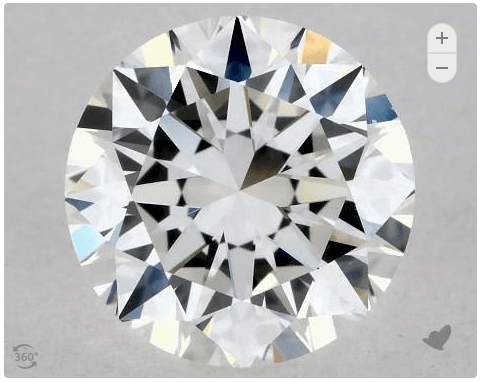 E color diamond, 1.01 carats, VVS1 clarity, ideal cut
If you're in the market for an engagement ring, chances are you've heard of E-color diamonds. But what are they? And are they worth the premium price?
In this blog post, we'll take a closer look at E-color diamonds and answer some of the most common questions people have about them. So if you're curious about whether or not E-color diamonds are right for you, read on!
Content overview
E Color Diamond Summary
Diamonds are graded from D-Z based on the amount of color they exhibit; a D color diamond is completely colorless
An E-color diamond belongs to the colorless diamond range and is significantly more expensive than a near-colorless diamond
If you are considering an E-color diamond know that you are paying for a feature you can't see with the naked eye
Only idealists would consider an E-color diamond for an engagement ring, but often lower color grades provide better value for your money
The best places to shop for E-color diamonds are James Allen and Blue Nile
What is an E color diamond?
Diamonds are graded on a scale of D (colorless diamond) to Z (diamond with visible yellow tints) by the GIA (Gemological Institute of America) based on the presence or absence of color.
An E-color in a diamond is one of the best colors assigned to diamonds by the GIA grading scale and falls in the so-called "colorless range."
The absence of visible color characterizes all diamonds in the colorless range. While it is true that they do contain a little bit of body color compared to D color diamonds, it is impossible to see the difference with the naked eye.
Just take a look at the two loose diamonds below. Can you tell the difference between the two?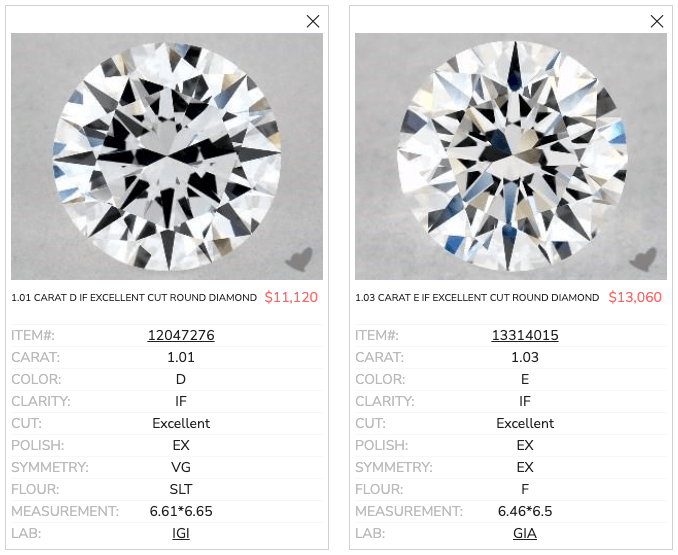 Most people, including experts, cannot detect a difference between the E color diamond and the D color diamond. Both diamonds appear completely colorless.
For example, the same is true for an E-grade diamond and an G or H color diamond. That's why it is often unnecessary to pay a premium price for a diamond in the colorless range because you are paying for a feature you can't see.
The GIA color scale
Below you can see the official diamond color grade scale that the GIA uses to grade its diamonds:

As you can see, there are three categories:
Colorless Range: D through F color diamonds with no body color; often referred to as "icy white diamond"
Near-Colorless Range: G through I color diamond with a slight yellow tint that is hardly noticeable to the naked eye
Noticeable Color Range: J through Z color diamonds, those diamonds exhibit noticeable yellow or brown color and are therefore only suited for a yellow or rose gold setting
How much do E color diamonds cost?
E color diamonds tend to be pretty expensive because they are scarce. However, keep in mind that the diamond's price is determined not only by its color grade but also by the cut quality, carat weight, diamond shape, clarity grade, etc.
That said, a 1-carat E color grade diamond with an ideal cut and a VS1 clarity grade would cost you anywhere between $7,000 and $13,000.
Below, I outlined in a chart how the diamond's color affects the diamond price for a round diamond with an ideal cut and a VVS1 clarity grade: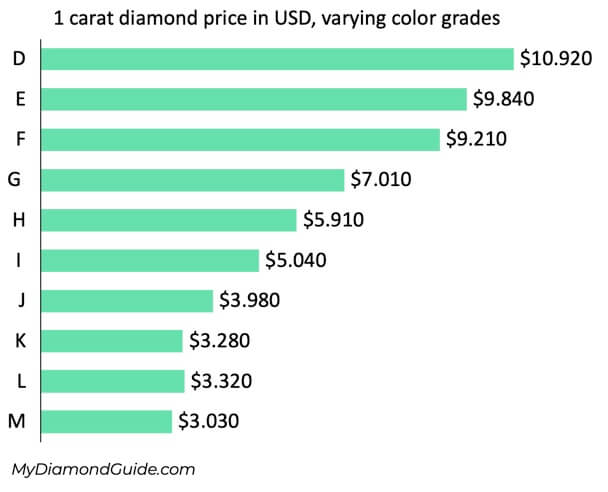 As you can see, the price drops significantly once you move to the nearly colorless grade diamonds. It's usually only idealists chasing the perfect diamond for their engagement ring who would consider diamonds in the colorless range.
While there is nothing wrong with that, know that you can save quite some money if you opt for a lower color grade with the same icy white appearance as colorless diamonds.
Are E color diamonds a good choice for an engagement ring?
D, E, and F color diamonds all make an excellent choice for engagement rings (assuming that you'd also choose an ideal cut grade and an eye-clean diamond).
However, an E-colored diamond might not be worth the premium price as you won't see the difference between an E-color diamond and a G-color diamond.
Even for white gold or platinum settings, choosing a colorless diamond usually doesn't make sense unless you select a huge diamond with a step-cut that shows its body color.
Below, I put together my recommendations for which color grade to choose for various ring settings and diamond shapes (e.g., round diamonds, fancy-shaped diamonds).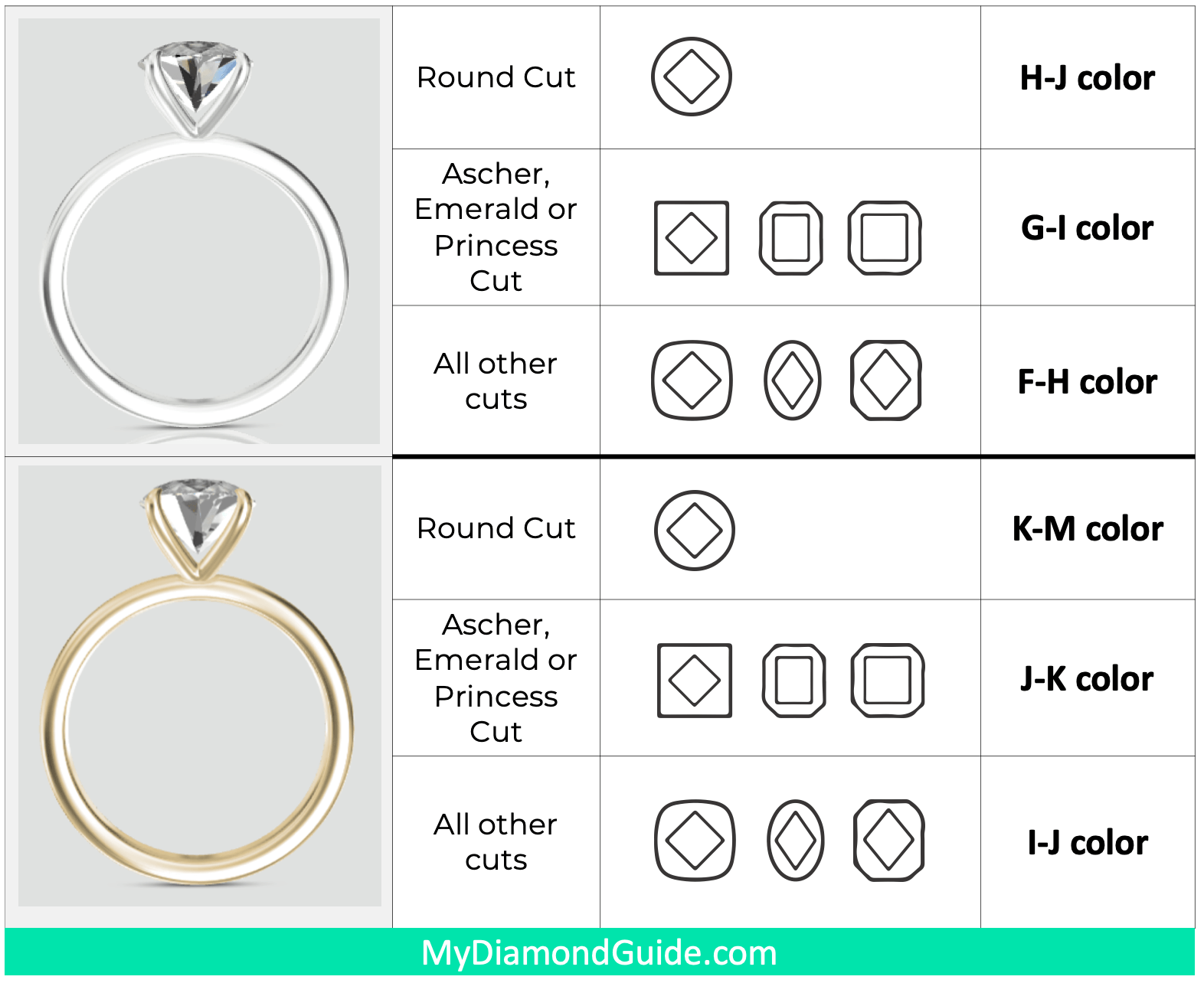 As you can see, for yellow- or rose gold settings, you can opt for much lower color grades than for a white gold setting.
If you are still hesitant about purchasing a lower color grade, experiment a bit with James Allen's new virtual reality ring simulator. You can use a picture of your fiancee-to-be's hand and try on any ring. You can also try different engagement ring settings, such as a yellow gold or white gold setting: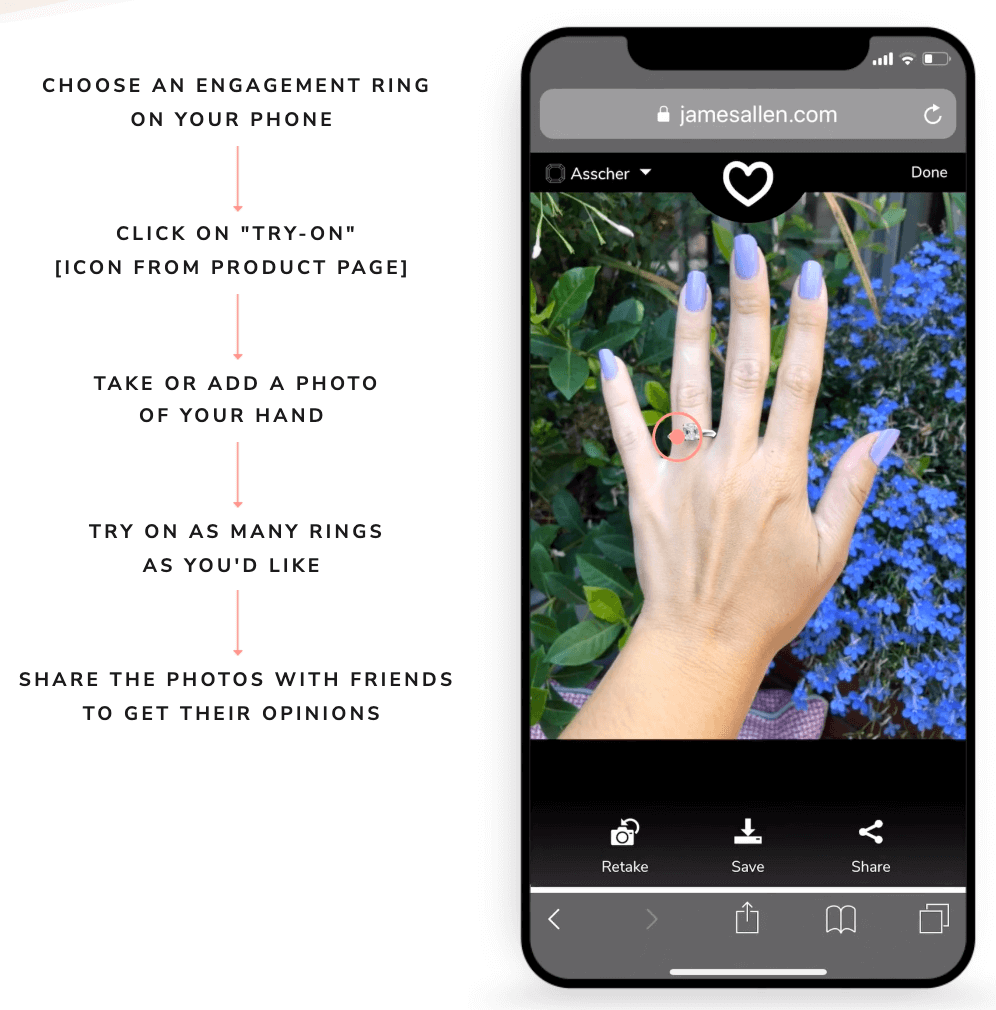 Where to buy E color diamonds?
You might be wondering where the best place is to shop for E-colored diamonds.
I always recommend shopping for diamonds online instead of at a brick-and-mortar store. If you have read some of my other blog posts, you know why. If you haven't, here are my top three reasons for buying diamonds online:
You can inspect each diamond in detail
You are not rushed or pressured into buying a higher color or clarity grade than is actually necessary
It's convenient and risk-free (if you stick to my vendor recommendations below)
In addition to white diamonds, they also have a great selection of fancy colored diamonds and lab diamonds.
Check out James Allen or Blue Nile. They have a wide selection of diamonds set in various ring settings. Whether you are looking for a high color grade or a low color grade, they are likely to have it.
Conclusion
The bottom line is this: if you want to get an engagement ring, don't overpay for a diamond that has the E-color feature. It may be tempting to buy one because of its colorless appearance and clarity grade, but when it comes down to your pocketbook, spending more money on something you can't see will cost you in the long run.
When choosing a diamond from James Allen, make sure to use their super Zoom function, which allows customers to view stones up close with magnification, allowing them to study diamonds before deciding on a purchase.