YOUR COMPLETE GUIDE TO BUYING DIAMONDS 2022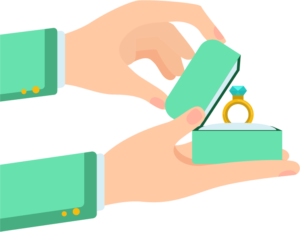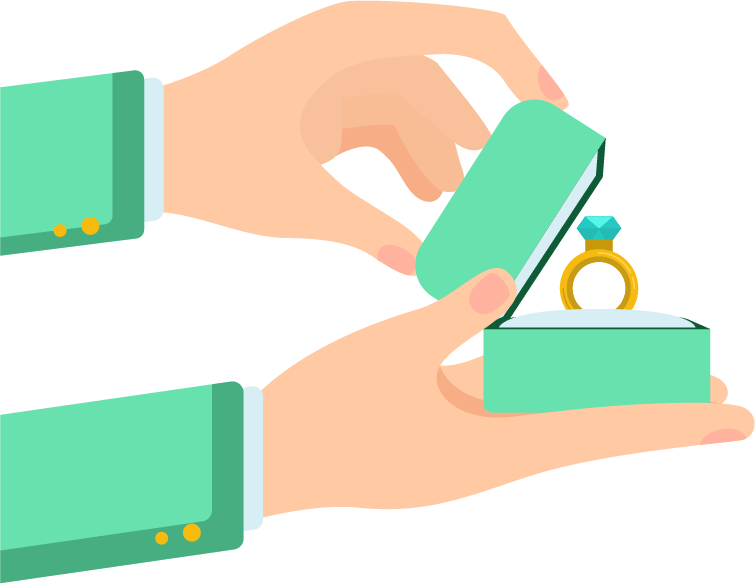 * Last Update December 2021
In 2022 not much changed about where to buy the best diamond for an engagement ring. The only thing that changed is the age of people who buy diamonds.
With school debt a major issue, and changing motivations for millennials, it seems this generation prefers to spend money on traveling and a meaningful wedding, not so much on expensive decoration.
What does this mean for diamonds? Well, millennials are still buying diamonds…but not just for their engagement. Instead, they're also buying the precious piece of jewelry to celebrate their own achievements in life.
Most couples who choose to purchase a diamond ring for their engagement are in their 30s. That's when disposable income is easier to come by.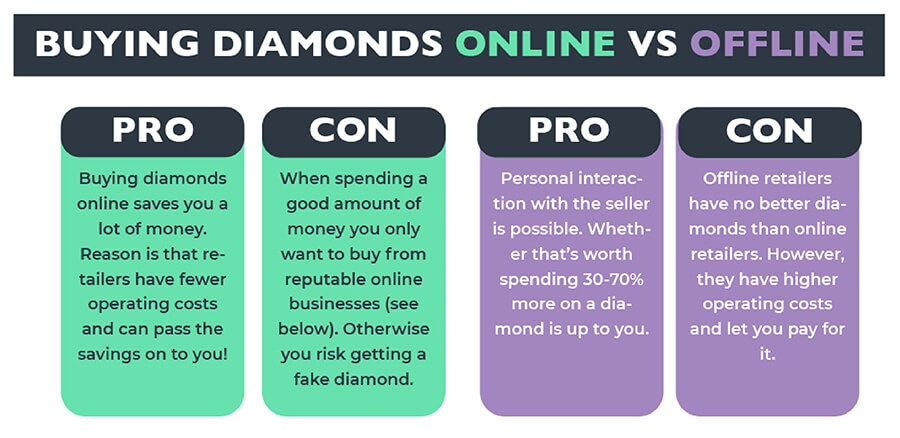 With technology continually improving the industry, including 360°-diamond viewing and purchasing tools, online shopping is now the most efficient and convenient way to get your hands on diamond jewelry.
Today, we want to provide brilliant advice, so you'll know what to expect from online vendors and how you can get the best value for your money. In addition to that, we will also provide general online retail advice and show you the best places to buy diamond rings online in 2019!
Best Place to Buy Diamonds: Key Features
Knowing where to buy diamonds can be difficult, and many shy away from the process altogether. But this doesn't need to be the case. In order to get a good deal we advise looking for the following features:
Diamond Imagery – Know What You Buy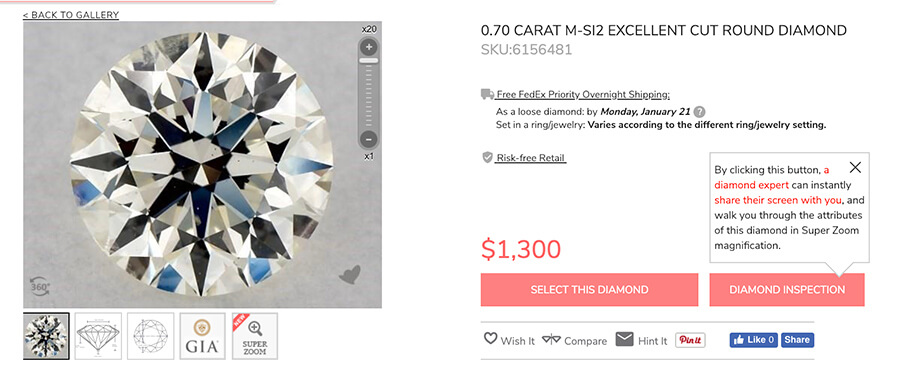 Ever heard the phrase 'never buy a diamond blindly'? This still applies. If a vendor doesn't offer pictures and videos, click away immediately. These days, the very best vendors will have high-resolution pictures and 360-degree HD videos. This is especially important when buying diamonds within the VS2 to SI2 clarity range. Before buying from a diamond retailer, spend some time looking at every detail; from the way it sparkles to inclusions in unfavorable places that take away from the beauty of a diamond.
Remember, even the best grades offer varieties so diamonds with brilliant symmetry and cut can have a different appearance. With pictures and HD videos, the best diamond stores will allow you to assess everything before purchasing.
While on this note, we also recommend looking for ASET and Idealscope images. With these, you'll see light performance data which can be very useful when comparing one to another.
AGS or GIA-Graded Diamonds
In terms of the finer details, you should always look for the stamp of approval from two of the most reliable grading labs: AGS or GIA. With this, you know you're getting certified diamonds and can have confidence in your purchase.
Save Money With This Trick
Have you ever been to a physical jewelry store and been surprised at the price of everything? Well, this is normally because of their high operating costs paying for the selection of diamonds. The cheapest way to buy diamonds will be online. In fact, experts believe we can save between 30% and 70% when purchasing a diamond online. That's because online retail stores have much lower operating costs compared to brick-and-mortar stores.
Wide Selection of Ring Settings and Diamond Cuttings
The best places to buy diamonds will allow customers to see how their diamond will look in a ring setting. Look for a vendor that has different metal types, designs, and various other preferences. Good examples include James Allen and Brian Gavin and Blue Nile.
Return Policy – Know The Rules
Finally, how long do you have to return the diamond? Is the return shipping cost covered? Before spending any money, make sure you know how you stand with returns. With the right diamond vendor, they'll do everything they can to help you.
Best Place to Buy Diamonds in the World
*Last Updated December 2019
James Allen: Best Diamond Store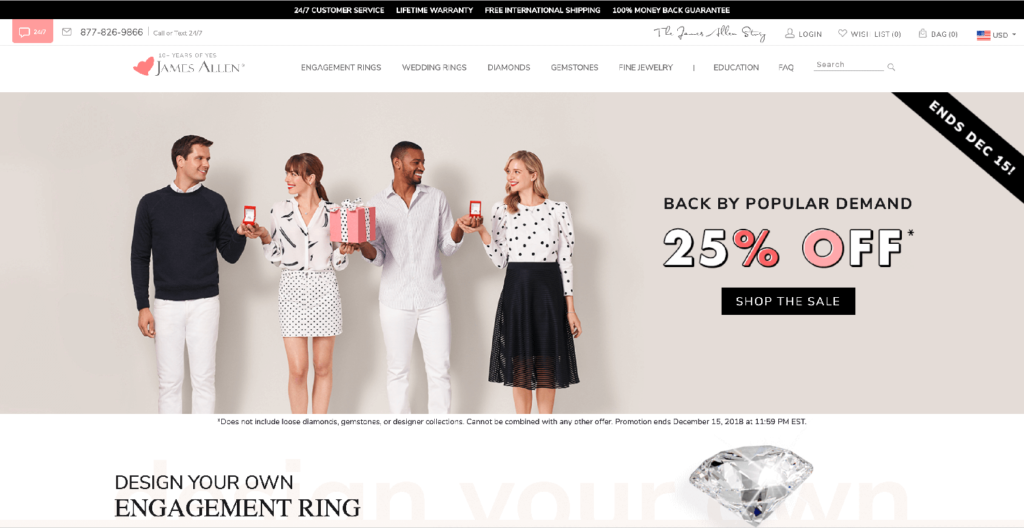 James Allen: Best place to buy diamonds in 2019[/caption]
For the best place to buy diamonds, James Allen not only offers 360-degree diamond display technology but also allows customers to view the diamond in 40x magnification.
With this in mind, you'll get a view of your chosen diamond you wouldn't even achieve in a physical store. After choosing a diamond and ring setting, James Allen will show you a real-life video in 360-degree to view it, too.
Moreover, the James Allen website also allows customers to see what their chosen diamond shape will look like on an animated hand. In addition, just like Brian Gavin, ASET and Idealscope images allow for a direct comparison between diamonds.
Earlier, we mentioned the importance of return policies and conditions of purchase and James Allen has potentially the best in the industry.
With James Allen, you'll have free return shipping in the US…something that can cost up to $100 with other retailers. How are they able to offer this? In truth, we think it's because their return rate is so low (they don't get many returns!). Other features include:
Ring building
Magnified photographs
24/7 customer service
Lifetime warranty on all jewelry purchases
Free engraving (laser inscribing)
Clever diamond search tool
100% full refund in the first 30 days
Whiteflash: Customer Service Experts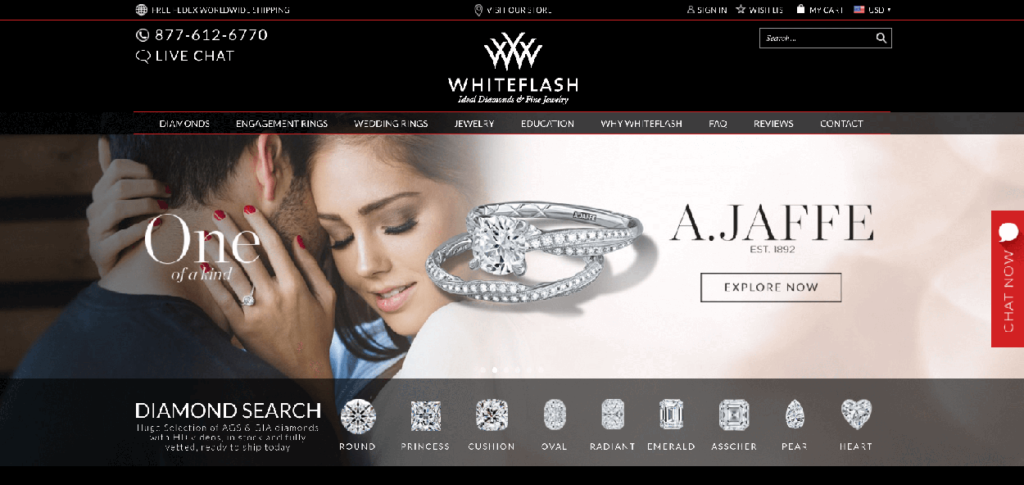 Whiteflash Diamond Online Shop
Last but not least, we recommend to check out Whiteflash who specializes in the best cut possible. This includes heart and arrow diamonds. Perhaps most popular is their 'A Cut Above' collection which boasts the highest quality in the industry. Just like with the other two vendors, you can get started with ASET and Idealscope images.
Additionally, this guide wouldn't be complete without mentioning their supreme customer service. Plenty of prospective customers have noted Whiteflash's willingness to go above and beyond; in many cases, they've even sent a Sarin report which explains precise measurements of every crown and pavilion angle (rather than average measurements from AGS and GIA reports).
Other Whiteflash features include:
Free shipping (all over the world!)
One-year buy-back guarantee
100% lifetime trade-up policy
Brilliant selection of ring settings for brands such as Verragio, Ritani, and Tacori
Six-time winners of 'Winner of Distinction' and an A+ BBB rating
Brian Gavin: Five Generations of Perfection
Brian Gavin Online shop[/caption]
Found in South Africa, Brian Gavin doesn't compromise on quality and offers cut proportions and symmetry that match the very best diamonds on the planet.
In addition to this, all diamonds in the Brian Gavin line have been handpicked which means they've been approved by Gavin himself. If you're searching for the best place to buy loose diamonds, this may be the right place (alongside Blue Nile, of course!).
With hearts and arrows diamonds, Brian Gavin's diamonds are known for their brilliant light performance and symmetry. Moreover, they offer their signature diamond, which is called Brian Gavin Blue.
For those looking for fancy colored diamonds, this one has a blue fluorescence. Although fluorescence is perceived as a "defect" it has no severe visible impact on a diamond and can save you some money (some say up to 15%).
Why choose Brian Gavin? All in-house diamonds have ASET ((Angular Spectrum Evaluation Tool) and Idealscope images so you can choose the diamonds with strong light performance. Other features include:
Personal checking by Brian Gavin
Huge collection of hearts and arrows diamonds
Opportunities for custom design
360-degree videos
15-day inspection period
100% lifetime upgrade policy
Great customer service team and reputation
Summary
If you were wondering where to buy diamonds before this guide, we hope you've got all the answers you need now.
In this guide, we took you through important considerations to make before choosing a vendor as well as three of the best vendors in the industry.
In 2019, many of this year's trends are set to continue and common themes include ethics and technology. However, there are two themes that have always been important when it comes to diamonds and this still remains; authenticity and value.
With the best diamond stores, they'll encapsulate all four and you can enjoy your diamond for many years to come! Feel free to check out my blog post about diamond color 🙂