SI2 Diamonds: Suitable for an Engagement Ring?
SI2 Diamonds are Distinctly Different than Other Diamond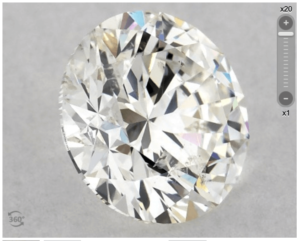 What makes SI2 diamonds so distinctly different is that although they do have inclusions, you can't see any when peering down on them with the naked eye. By definition, SI stands for "slightly included" which means that you can spot inclusions in SI2 diamonds if you enlarge the diamond with a 10x magnification. This should never discourage you to buy an SI2 diamond online because you can actually find some stunning eye-clean diamonds for a fraction of the diamond cost.
Difference between SI2 and SI1 Diamond
The inclusions in an SI2 diamond are a little more obvious than those in an SI1 diamond. The distinctions between the two clarity grades have to do with their density, size, and location. If you are looking to buy a diamond ring as an engagement ring most people tend to opt for SI2 or higher clarity grades. Keep in mind that the most important thing is to find an eye-clean diamond. And that is definitely possible within this clarity range.
Ignore Common Misconceptions Regarding SI2 Diamonds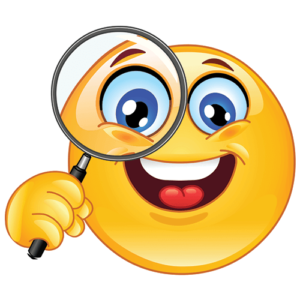 Jewelers have been known to mislead their customers into believing that all diamonds with an SI clarity grade are eye-clean. Furthermore, many diamond shoppers have been misinformed by bogus articles online that claim SI diamonds are always problematic.
Both of these are misconceptions. However, they aren't completely wrong, nor are they correct. An SI2 diamond has visible inclusions under a 10x loupe. However, it can still be eye-clean.
If you're shopping for a diamond, the biggest mistake you can make is to buy a diamond at a brick and mortar store. That's because you won't be able to inspect a diamond in detail. It's like buying one without ever seeing it.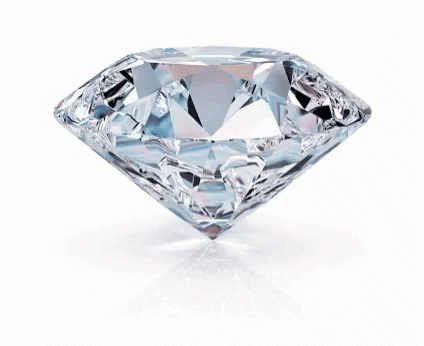 A much better and safer way to look for a suitable diamond is online, at reputable online shops such as James Allen or Blue Nile. These vendors provide you with high-quality videos that allow you to inspect a diamond from all angles.
Are SI2 diamonds always eye-clean?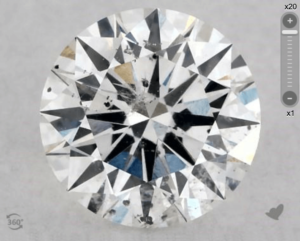 A diamond with a clarity grade of SI1 or SI2 can have a clean plot but have a comment inserted on the GIA report that says the clarity grade is based on unshorwn clouds. This reflects the fact that the diamond does have a lot of clouds. Have a look at the photo below of an SI2 diamond that is not eye-clean.
SI2 Diamonds Can Often be Incredible Buys & Here's Why
It's very common for gem-quality diamonds to have inclusions. Because of the way they're formed within the earth, this is perfectly normal. This applies to SI2 diamonds as well, except that they have more inclusions than diamonds with a higher GIA clarity grade.
If you come across an eye-clean SI2 diamond, you should consider buying it because you'll be getting a great stone for the fraction of the regular price.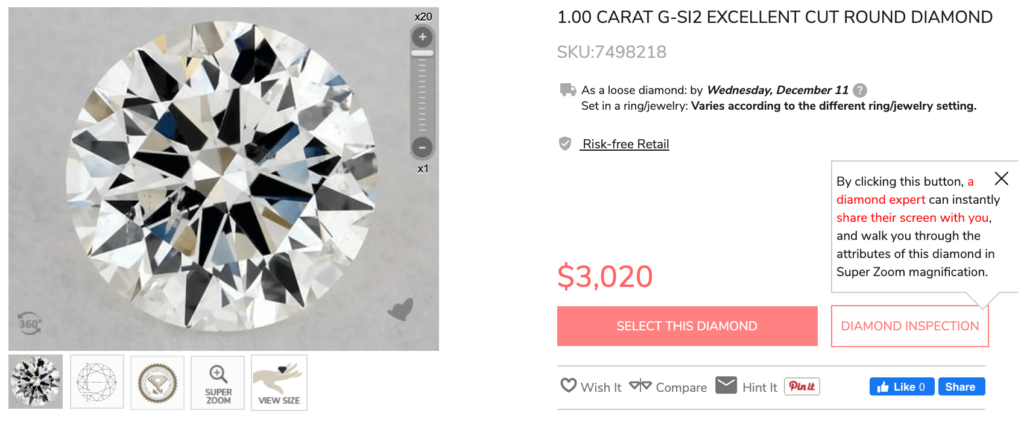 If you click on each diamond, you'll be able to see them in all their glory using the interactive video technology provided by James Allen.
When looking at these diamonds in a normal setting with the naked eye, there isn't anyone who could see the differences when they're face up. But, notice the enormous price difference! The price of the VVS2 diamond is a huge 40% more than the price of the SI2, yet they look identical!
How much can I expect to pay for an SI2 Diamond?
Without being told, no one would have ever guessed that the diamonds above are graded very differently. These diamonds are equally beautiful, but the difference in price is enormous. Notice the jump in price when you go from an SI2 to an SI1.
1 CARAT G-SI1 EXCELLENT CUT: $4,360
1 CARAT G-SI2 EXCELLENT CUT: $2,950
To provide you with a really clear picture of the difference in prices, I've sorted the James Allen SI1 diamonds accordingly: 1 carat, excellent cut with G color.
The least expensive one is around $4,900 and the most expensive one approaches $7,000. When I change to an SI2 clarity grade, you can see how much the savings are:
Here, the most expensive diamond is $5,450. Buying a GIA clarity graded diamond above VS2 is totally unnecessary because VS2 diamonds are literally eye-clean. And if you're really careful choosing, lower grades up to SI2 can be eye clean as well, which saves you a lot of money.
You will get the most for your money by buying an eye-clean SI2 diamond!
How to Go About Buying an SI2 Clarity Grade Diamond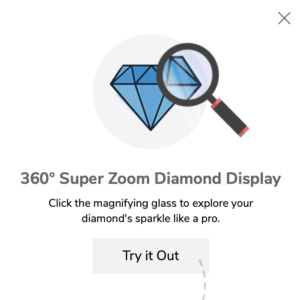 When selecting a diamond with black inclusions or other inclusions, it's vital that you see the gemstone in detail. Magnified photos or videos can help enormously with that. As demonstrated above, you know that the possibilities are endless when it comes to the appearance of an SI2 diamond.
No two SI2 diamonds look alike. Some SI2 diamonds are not eye-clean, yet others can look to the naked eye just like a VS or even a VVS diamond.
Have a look at these James Allen diamonds. James Allen along with Blue Nile lets you look at magnified photos and even HD videos of each stone they have for sale. These two vendors have my highest recommendation because you get to clearly see the stone before buying.
3 More Tips to Keep in Mind When Selecting an SI2 Diamond
When looking at all the James Allen, try turning down the 20x magnification to just 2x, as shown below:  When you do this, you can actually see the diamond as it actually is. Since you're viewing it on your computer screen, we think a 2x magnification works best even if it's slightly larger. Also, any James Allen diamond that appears eye clean at 2x magnification will most likely also appear eye-clean when you see it in person!
There is no way to accurately show a 3D object on a 2D diagram because you'd have to omit the depth, density, and color of the inclusions. This is why you cannot 100% rely on an inclusion plot.
 If you have any hope of knowing exactly what you'd be buying, it's vital that you view the diamond under magnification. Be honest with yourself when deciding whether you would be happy with an included diamond.
Is an SI2 clarity grade on a diamond considered good?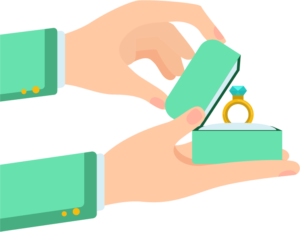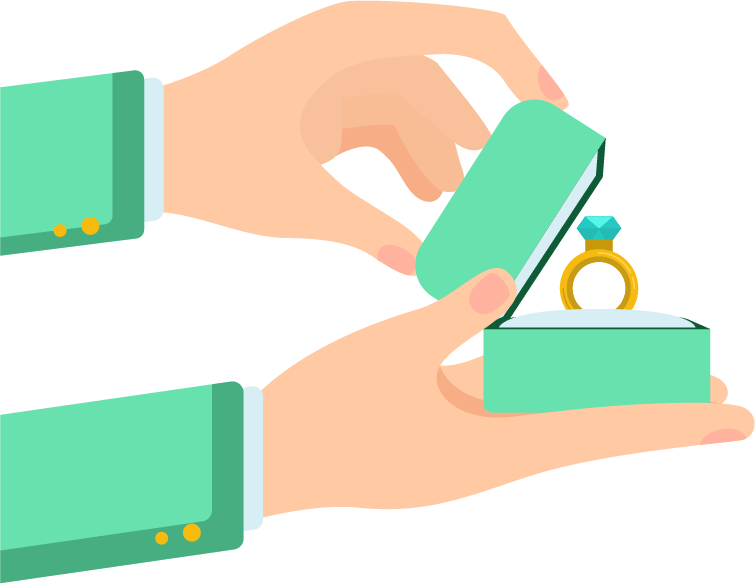 In diamonds larger than 1 carat, clarity makes a big difference and SI2 inclusions would be much easier to spot so you can often find an SI2 at half the cost of a similar-sized VS1 diamond.
Approximately 1/3 of the diamonds being sold are in the SI1-SI2 clarity range. If your priority is size and price, your best bet may be an I1 diamond. Also, consider the cut of your diamond. Inclusions are more visible in shapes like an emerald cut diamond.
Which diamond is better, an SI1 or SI2?
In trying to choose between the two, it basically comes down to overall quality and price. If you have two diamonds of the same price and cut, the SI1 would be clearer, but the SI2 would be less expensive per carat. However, some SI1 diamonds have inclusions that can be seen with the naked eye, while some SI2 diamonds are eye-clean.
Conclusion
I hope the common misconceptions about SI2 diamonds have been cleared up with this article. As you've seen in the above examples, you do not need to shy away from buying a diamond with some inclusions. You can still get an eye-clean one while stretching your budget to get a larger stone with a better cut.