4 Carat Diamond – The #1 Buying Guide
A 4 carat diamond ring is certainly not comparable in size to the Hope Diamond, but when it comes to engagement rings, a 4-carat diamond is undoubtedly above average in size. In fact, the average size of the center diamond in engagement rings in the U.S. is 0.91 carats. Look at the simulator below to see the differences in carat size.
There is no doubt that a 4 carat diamond solitaire ring will garner a lot of attention. People shopping for a diamond engagement ring of this size can quickly become stressed out by the process. Most people don't spend this much money, which can go into the six figures, on a piece of jewelry.
The information in this article will help you avoid some of the pitfalls people encounter shopping for a diamond. Keep reading to learn how to find the best diamond without going over budget:
Price of a 4 Carat Engagement Ring
There's no definitive price because of all the variables that you need to consider. Aside from the diamond's carat weight, its cut, clarity, and color will also factor into the price.
What I can do is present some examples to give you some insight into how these four qualities (the 4Cs) affect the price.
Here is a diamond priced at the more expensive end of the range due to its (internally flawless) IF clarity and D color.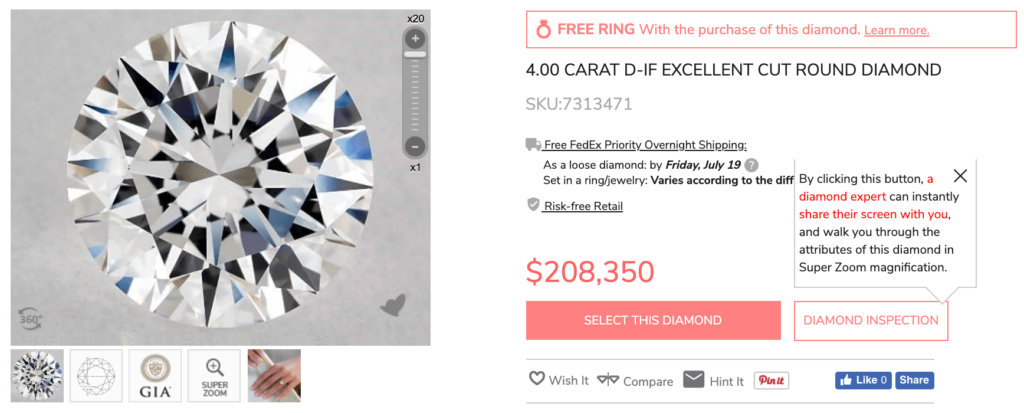 On the other hand, this diamond has a VS2 clarity grade while being nearly colorless with a color grade of H. In addition to that, it's eye clean. The price of this diamond is a small fraction of what the D/IF diamond costs.

Although the second H/VS2 diamond is far less expensive, priced at $91,713 due to its less impressive qualities (color and clarity), its cut is much better visually.
Up close and personal, the second diamond will have far more sparkle, overall brightness, and fire. So, when it comes to real-life visual appearance and appeal, the less expensive, lower quality Brian Gavin diamond wins by a mile when you compare the two.
What to Plan on Paying for a 4-Carat Diamond
Realistically speaking, a well-cut 4-carat diamond with respectable color/clarity and good light performance will usually cost $80,000 or more.
If you're willing to accept a hint of color, perhaps going down to a K color, you could likely find one priced at $50,000 or more.
All in all, you get what you pay for when it comes to diamonds. If your budget won't allow for a 4-carat diamond, it's time to lower your expectations and start considering something smaller.
It would be a lot smarter to buy a ring with an exquisitely cut 3-carat diamond. But, make sure you get it from a reputable vendor. It makes no sense to shop for a 4-carat diamond when it is clearly not in your budget. When you seek unrealistic deals, you risk getting ripped off, with no one to blame but yourself.
Shopping Guidelines for a 4-Carat Diamond
Follow these guidelines when shopping for a 4-carat diamond:
Color: No lower than G
Clarity: No lower than VS2
Round Cut: At a minimum, a GIA 3Ex or an AGS 000
Grading Report: Only accept a GIA or an AGS report
Reasons for These Guideline Recommendations
Recommending a G color grade or better will give you a very impressive icy white center stone facing up. In the end, diamond color is a subjective feature that really comes down to personal preference. If you're working with a limited budget, lowering your color grade may be a sensible compromise.
Because labs grade diamonds in a specific way, the minimum clarity of VS2 is important in such a large stone. It would be nearly impossible to find an eye-clean 4-carat diamond with less than SI clarity unless you don't mind the inclusions diminishing its brilliance or risking its durability.
James Allen offers 360° videos and also a Super Zoom function that lets you take a close look at each diamond.
The cut is one quality you shouldn't compromise on because it has a direct effect on the diamond's appearance. You want a beautiful looking diamond above all else. An exquisitely cut diamond can hide inclusions and a hint of color with its magnificent sparkle.
Finally, a grading report is an objective, unbiased, and reliable opinion of the diamond's specific qualities. Never consider buying a diamond that hasn't been graded by either GIA or AGS. Any other report will use questionable grading standards, misrepresenting the diamond's qualities. You can find the best selection of 4-carat diamonds online.
How to find high quality 4-carat diamonds
If you ask me, the best way to find top-quality 4-carat diamonds is to go online and browse the websites of reputable vendors.
Without a doubt, those who have not adapted to the digital age may think I'm nuts to advise people to buy a large diamond online rather than in a jewelry store.
The truth is, more shoppers get ripped off in brick and mortar stores than people who shop online. When you shop online for a diamond, you have much larger inventories that you can look through. You can take your time finding the best possible diamond within your budget.
More importantly, shopping online allows you to have far more transparency when selecting a diamond than you could ever get in a retail store. For example, here's a listing I came across on James Allen:
Not only can you inspect each diamond very closely, but you also get each one's performance data. Each diamond has its technical details on full display so that you can see it all, analyze the data, and even interact with it.
Most jewelers working at retail jewelry stores know nothing about the cut quality or diamond performance. Honestly speaking, the few that do understand the cut mechanics of diamonds are unlikely to provide this data to shoppers.
Why not?
Because making this data available to shoppers will reveal how poor the quality is of the diamonds they're selling.
Where is the Best Place to Buy a 4 Carat Diamond?
Whether you are looking for a 4 carat emerald cut, round cut or cushion cut engagement ring, where do you think would be the ideal place to buy a diamond of this size?
At your local jewelry store?
Probably not! Most jewelers will have a limited selection and mediocre cut quality. In addition to that, local jewelry stores tend to charge you a premium price.
Maybe a large jewelry chain maybe?
Nope! For the same reasons as mentioned above.
How about branded stores like Tiffany?
They might have a better cut quality than your local jewelry store, but you'll pay an extra premium price.
James Allen offers 360° videos and also a Super Zoom function that lets you take a close look at each diamond.
Ok, so where should I buy a 4 carat diamond ring? …Well, the answer might surprise you: the best place to buy large sized diamonds is online. The reason for that is, that very few people shop for a 4 carat diamond.
Hence, local jewelry stores only have a limited selection of diamonds in this size. Plus, as mentioned in my other blog posts, brick and mortar stores have a lot of overhead expenses that online stores do not have. And guess who's paying for the additional expenses? You guessed it; it's you!
Another disadvantage of brick and mortar stores is that you usually don't have sufficient time to look carefully at the diamond. Rarely can you take a close up look at the diamond you are about to buy.
That's different online. If you go to reputable online vendors such as James Allen or Blue Nile you will not only have a much bigger collection of 4 carat diamonds, but you'll also be able to look at each diamond in detail, thanks to their 20x magnification and high definition 360-degree videos. You'll also be able to create your own diamond jewelry and pick a band of your preference, such as a 14k white gold band.
Conclusion
If you're in the market for a 4-carat diamond, you can plan on spending somewhere in the range of $40,000 to $500,000. Keep in mind that you should consider the preferences of the person who will be wearing the ring in the end.
Therefore, I recommend that you begin your search well ahead of time so that you do not make a hasty decision. It may be challenging to find an engagement ring with a 4-carat diamond in the quality grades you want within your budget.