Average Diamond Size When It Comes to Engagement Rings
The national average diamond size of engagement rings sold in the United States is anywhere from 1.08 to 1.2 carats. But rather than just considering the diamond's carat size you should be looking for a stone with the right color and clarity, cut and carat weight. The combination of these 4Cs is what gives a diamond its beauty.
If you're like most people, you want the best diamond engagement ring that you can afford. In order to maximize your budget, you should narrow your search down to the most trustworthy diamond vendors. You can find a large number of the highest quality diamonds at the best prices if you go to online vendors such as James Allen or Blue Nile.
The aspect that people seem to be mainly concerned with is the diamond size for an engagement ring. This is probably the result of all the media attention on celebrities and the size of the diamonds in their settings. The photos are taken to make people think that the average carat weight of these diamonds is much higher than it actually is.
James Allen offers 360° videos and also a Super Zoom function that lets you take a close look at each diamond.
This article will candidly discuss the average diamond size for an engagement ring. We also reveal where you can get the most for your money when you buy a diamond engagement ring and setting.
How Large is the Average Diamond Size for Engagement Rings?
Depending on where you get your information, the average carat weight of the center stone in an engagement ring in the U.S. is 1.08 to 1.2 carats. excellent cut
USA Today reported in 2014 that the average carat weight was a little more than 1 carat for the diamond in the center. If you add the total number of carats for all the stones in the ring, it would average 2 carats, like what you would have in a halo setting.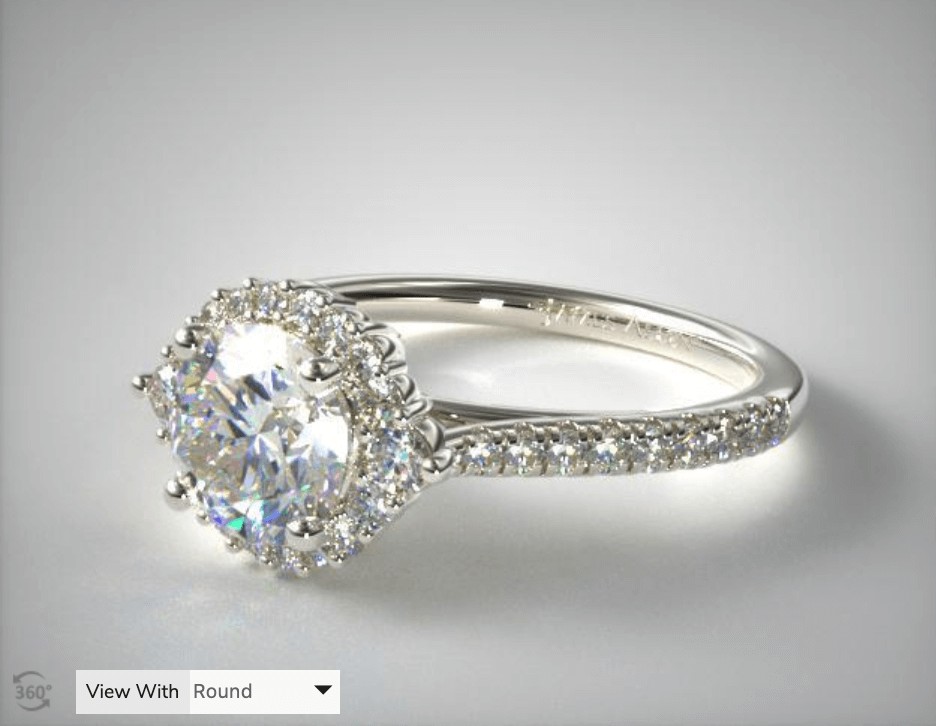 Depending on your location in the U.S., the average diamond size can vary. If you're in a large metropolitan city like San Francisco, the diamonds would be significantly larger than you would find in a small city like Boise, Idaho.
The age of the person wearing the ring would also impact the average diamond size. You are not going to find average millennials spending as much for a diamond as people routinely spent generations ago. Therefore, the average carat weight of their diamonds is lower.
If you are shopping for an average-sized diamond for an engagement ring, I'd suggest you check out my article on 1-carat diamond rings.
If you would rather have a larger than average diamond, I have informative articles on shopping for 4-carat and 5-carat diamond rings.
How Much Money Should Be Spent on an Engagement Ring?
There is no such thing as an average diamond price. USA Today reported in 2014 that couples spent about $5,600 on average for an engagement ring that year.
Although this figure may be interesting, it needs to be looked at in context. Similar to average carat weight, the average amount spent by couples varies depending on where they live, the average income in that city and their age.
Getting the Highest Value Diamond Within Your Budget
If you want an average sized diamond, there are a number of ways to ensure that you get the very best diamond you can without breaking your budget.
Buy from a Highly Reputable Online Diamond Vendor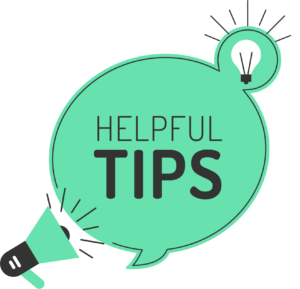 Rather than shopping at a retail jewelry store where you'll pay top dollar, go online to a reputable diamond vendor to buy your engagement ring.
As has been widely discussed, traditional brick and mortar retail stores have far more overhead than an online store, and those costs are passed on to the consumer. If you want to save money, shop online.
A reputable online diamond vendor will offer diamonds of the same or better quality for a fraction of the price of a traditional retail jewelry store.
We recommend that you go online and shop at James Allen or Blue Nile. These are highly reputable vendors that carry high-quality diamonds certified by GIA or AGS and they offer them at better prices than anyone else we know of in the industry.
Learn About the 4Cs Before You Even Start Shopping
The 4Cs stand for clarity, color, cut and carat weight. Each one has a role to play in the price of a diamond engagement ring. It's vital that you understand how these 4 aspects affect a diamond, its beauty, and value before you make your choice.
Your first inclination may be to focus on the number of carats, but the cut can have more of an impact on a diamond's beauty and brilliance. A large Poor or Fair cut diamond will not be as eye-catching as a smaller diamond with an Excellent or Ideal cut.
Clarity and color also greatly influence the diamond's appearance. You do not need flawless clarity or color, but you would certainly want your diamond to be eye-clean and colorless when seen in person.
Generally, it's best to narrow your search down to diamonds with an Excellent or Ideal cut and a VS1 or VS2 clarity grade. As for color, look for diamonds that are practically colorless, which would range from G to I. Choose a setting that does not affect this.
Refer to our guides on clarity, color and cut for a complete understanding of these aspects. And read our guide on carat weight to round out your knowledge of the 4 Cs.
On a Budget? Look at Yellow or Rose Gold Settings When Buying an Average Sized Diamond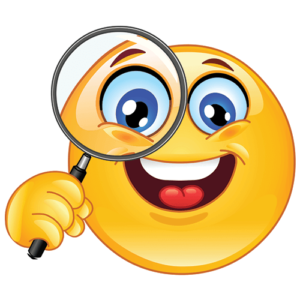 Yellow and rose gold settings are gorgeous, but they are a slightly darker shade than white gold or platinum. If you choose one of these as the setting, you can get away with a slightly lower color grade diamond. Make sure the diamond appears colorless against the setting. That's the trick. In a white gold or platinum setting, a diamond with a hint of color, like a J or K grade, will appear slightly yellow to the naked eye.