The ultimate shopping guide for Diamond Stud Earrings
You might think that choosing a single diamond is fairly hard as it is, so shopping for two would be even more overwhelming. The information contained in this article will address that issue and everything else involved in choosing a beautiful matching pair of diamonds. We'll also tell you how and where to get the highest quality stones within your budget, where to get free shipping deals, order status updates and much more.
Pre-Set Diamond Stud Earrings vs. Creating Your Own
If you want to buy a pair of diamond earrings, you would typically go to a jewelry store to see what they have in the way of pre-set diamond studs. The sales associate will then ask you how much you have budgeted and then show you what they have within your budget. They also routinely show more expensive pairs, claiming higher-quality stones.
You inspect the diamonds with a loupe under 10x magnification and at first, you're convinced! It's a reputable brand, you trust the retailer and the diamonds do sparkle, what else is needed?
But you're more careful than most consumers; you want to know for sure that you're getting good value for your money. There is no way you're going to buy a pair of pre-set diamonds until you see their grading certificates or perhaps, you're buying small studs under .35 carats each.
But if you're shopping for diamond stud earrings larger than .35 carats each, I suggest you create your own studs so that you're sure of their quality and value. It's also so much more fun when you select the diamonds yourself!
What to Look for When Selecting Diamond Stud Earrings
When you're choosing diamonds for stud earrings, understand that they are not going to be looked at as closely as a diamond engagement ring typically is. So, when you're selecting the diamonds, keep in mind the 4Cs of each, and how well they match. You'll also want to know the quality and value of the setting.
The 4Cs are as follows:
Carat Weight – The weight of the Diamond
Most people have no idea that the quality of a diamond's cut is what's most important. But the truth is that what grabs the most attention is its size!
Since diamond stud earrings are worn on the ears, their carat weight or size is what is most apparent. So, if you want them to be noticed, the larger the better!
Diamond Color – Too yellow or crystal clear?
When you're selecting a diamond for an engagement ring, the sweet spot for color is G. This is because you can hardly tell any difference between Color G and Color D, which is the highest color grade. For diamond studs that will be viewed from a greater distance, you can safely go down to Color H or I.
Diamond Clarity – Are inclusions or blemishes visible?
Theoretically, it should be easy to select a pair of diamond stud earrings with I1 clarity grades. But that's not the case. Most online retailers are selling uncertified studs, so there is no way to know for sure that they are graded I1. However, we found an exception with Blue Nile. Most of the time diamond studs have a very low clarity grade of I1 or I2, which means they are most likely not eye-clean.
Diamond-Cut – The most important factor when it comes to sparkle
Diamond cut is of critical importance when you're buying diamond stud earrings, more than color or clarity grades. The only thing people really notice about studs, aside from their size, is how much they sparkle. This is why it's so important that these diamonds be well-cut. This is what makes diamonds sparkle. However, you will also want to pay attention to how deeply cut the diamonds are because you don't want them looking smaller than they really are.
Exploring Various Diamond Cuts & Shapes
The degree to which a diamond sparkles is due to how well it is cut because the cuts and faceting are what catches and refracts the light. The various cuts are graded from "Poor" to "Excellent" depending on how much light is refracted. When you're shopping for diamond studs, you need to determine the size and how much sparkle you want. Diamonds with a cut that gives them a larger table (surface area), like a Princess or Marquise cut, look larger than they actually are. Round Brilliant cut diamonds sparkle the most as a result of the angled facets surrounding the crown.
How to Choose the Right Setting for your Diamond Stud Earring
The setting is a vital aspect of diamond stud earrings. Whether these studs are for women or men, the bases are made of yellow gold, white gold, rose gold, platinum or sterling silver. These variations are what make them look unique.
The settings for studs are usually either bezel or prong settings. Bezel settings are made with a rim that completely surrounds the edge of the diamond, providing the stone with maximum security. Prong settings typically have anywhere from three to eight prongs that hold the diamond close to the setting while allowing maximum light to pass through. This creates more sparkle.
The setting does more than just hold the diamond in place. The right setting can dramatically enhance the brilliance of the stone and a low-quality setting can do just the opposite. Look for a setting that displays excellent craftsmanship and symmetry. The best settings are designed to enhance the beauty and sparkle of the diamond, as well as the wearer.
Where to Shop Online for Diamond Stud Earrings
It's extremely important that you find a highly reputable diamond retailer, especially if you're shopping online. In choosing one, look for the following:
Advanced Diamond Viewing Technology (view details in high definition)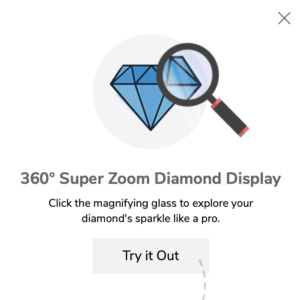 Shopping for diamonds online has many advantages, including lower prices. However, it is very important that you know exactly what you're getting. After all, you would have that assurance when shopping a local jewelry store. This is why it's so important to see as much of the stone as possible. Just being told about the carat weight, cut, color and clarity are not sufficient. You need to actually see the diamond with your own eyes.
This is the only way you can judge how eye clean the diamonds are and be confident about their brilliance, fire and overall sparkle. A reputable online diamond vendor should do a lot more than provide animated pictures and/or generic images of the diamonds they're selling. They should provide HD photos from all angles, and even better, show you actual videos. This is the only way you can make sure nothing is being hidden from you.
Grading Report
You should also have easy access to the diamond's grading report, hopefully from GIA or AGS, which have the most credibility. The most reputable vendors are selling diamonds that have been graded by either of these labs. A certificate from one of these organizations is trusted.
The online diamond vendors below provide you with all of the above and more!
The Best Places to Shop Online for Diamond Stud Earrings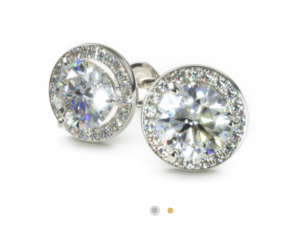 The majority of the largest online diamond retailers sell their studs sight unseen, with no certification. Their justification is that studs are a lot less expensive than other diamond gifts. They claim that adding the cost of two separate certificates would make them unaffordable for many.
This may benefit the consumer by keeping prices down, but it definitely creates major issues:
How are consumers supposed to trust what they're being told about the diamonds? How are consumers able to compare prices from different vendors if they can't be sure they're comparing diamonds of equal size and quality?Customer reviews offer a lot of good information that consumers can use in deciding whether to trust various vendors. But when they're buying diamonds it's even more important that they deal with someone highly reputable. Therefore, it's critically important that you do as follows
Insist on a diamond certificate.Shop for diamond stud earrings at reputable vendors only.
I stake my own reputation when recommending the following diamond vendors:
Top Recommendations for Diamond Vendors Ranked in Order
Price Comparisons Between the Five Recommended Online Vendors
**Vendors may adjust prices at will, so these may not be their current prices.
Shopping at James Allen
James Allen has completely revolutionized the experience of diamond shopping. They were the first to allow consumers to view magnified 360 ° videos in HD of every diamond they're selling. Customers of James Allen know exactly what they're getting before buying.
Currently, James Allen is the only vendor that provides high definition videos from every angle for every single diamond in inventory. They also provide outstanding customer support, which you can easily experience yourself.
Blue Nile's Dimond Stud Earrings
Blue Nile is a pioneer when it comes to selling diamonds online. They continue to have the largest number of diamonds in inventory and have the largest turnover. But Blue Nile is losing its momentum as well as market share. Why? Consumers are less willing to buy something as important as diamonds without actually seeing them first.
Whiteflash's Sparkling Earrings
Whiteflash is Brian Gavin's strongest competitor and is currently on par with them. They provide shoppers with Hearts and Arrow (H&A), ASET and Idealscope images of all in-house diamonds. Their tag line, "A Cut Above" suggests they offer only the highest quality diamonds.
Brian Gavin' Earrings
Brian Gavin is a 5th generation South African diamond cutter, the founder of Brian Gavin Diamonds. He is also one of the cutters given credit for creating Hearts and Arrows Diamonds. Brian Gavin is committed to selling only the very best cut diamonds imaginable.
Other Diamond Accessories You Should Know About
When selecting your diamond stud earrings, you need to think about what other jewelry you might decide to wear when wearing your studs. Consider the type of metal your accessories are set in, so the pairing looks attractive. Some shoppers like buying complementary jewelry pieces at the same time instead of trying to mix and match later on.
These shoppers should look for accessories with diamonds of the same shape and in a similar setting. This creates a consistent look. Look for diamond stud earrings that are very versatile in style. I would recommend basic round cut diamonds, set with prongs. These would look perfectly appropriate when dressed casually or in formalwear.
Diamond Stud Earrings for Mother's Day
If you want to a beautiful, classic gift for Mother's Day, a pair of diamond stud earrings would be perfect. You have the option of creating a pair that aligns with your mom's style, or you can choose among the beautiful options below:
The studs we recommend here have been collected from the most reputable diamond vendors. Every piece of jewelry they create is done with the utmost precision and care.
Options for Diamond Stud Earrings:
Stud earrings with a floral design with a 14k white gold setting
Stud earrings with a wire basket designPrincess cut diamond stud earrings
Conclusion
Quality standards for diamonds that will be set in stud earrings can be substantially lower than the quality grades for engagement rings. This is because the distance from which they will be seen is nowhere near as close as the distance that engagement rings are viewed. Many of the diamonds people would never consider for an engagement ring because they are not eyeing clean, can look eye clean set in diamond stud earrings. In the end you'll look out for a good service plan and payment options. Most often diamond vendors will accept several banks and credit cards.